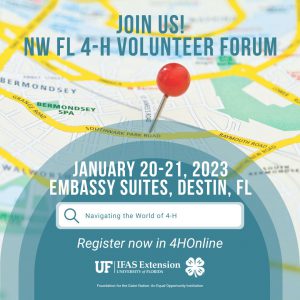 We are excited to announce registration for our 2023 Northwest Florida 4-H Volunteer Forum will open on October 15th!  This post contains all the details about our event- who, what, when, where, and how. We hope you will plan to join us for an inspirational Friday night and Saturday as we connect with each other, learn together, and share our successes. Our theme is "Navigating the World of 4-H." Together, we will learn about empowering youth, inspiring hope, and helping young people reach their full potential.
 WHO

Our volunteer forum is for teen and adult volunteers leading and supporting 4-H clubs, groups, or programs in the northwest Extension district.

WHAT

A weekend (Friday night and Saturday) event full of inspirational speakers, hands-on workshops, and opportunities to connect with and support other volunteers!  Topics were identified based on last year's forum participants' feedback. Feel free to download the agenda and informational flyer. This post highlights some of the activities you won't want to miss:

Friday night kicks off with our "Make and Take" Fair. Try out a wide variety of fun and exciting 4-H activities you can use with the clubs or groups you work with. Each time you visit a station, you can get your "passport" stamped! There will be selections to support all three 4-H pillar project areas- Healthy Living, STEM (science), and Citizenship/Leadership. During the Make and Take Fair, heavy hors d'oeuvres will be served and you will have the opportunity to test out the activities and take home samples and instructions to share with your youth, parents, and other volunteers.

After the make-and-take fair, we will have a fun icebreaker, and Dr. Stacey Ellison, our 4-H Program Leader, will speak and give a "state of 4-H" update and share strategies for inclusion and diversity. Volunteers are encouraged to network and mingle after her address.

Saturday morning will inspire!  Gulf County 4-H Alumnus and best-selling author, Cedric Lennox, will share how his Florida 4-H experiences taught him about youth empowerment and how we can all be "Dealers of Hope."

Following the keynote address, volunteers will be able to select from a variety of workshops:

Road Map to Parliamentary Procedure

Charting a Successful Sports Fishing Project

Culinary Adventures with the 4-H Food Challenge

Trek through Teambuilding

Tour of 4-H Gardening Project

Smooth Sailing with Cloverbuds

During lunch, connect with other volunteers who have similar interests as you to start building a community of practice for your 4-H clubs and groups! Dr. Jenny Jordan will share expert tips for Experiential Learning (or learn-by-doing).

After lunch, there will be more workshop selections for volunteers to choose from:

Guide to 4-H Awards, Recognition, & Portfolios

Voyage through the 4-H Clothing & Textiles Project

Hike through the "Big Book of Cloverbuds"

Survey of Service Learning

Expeditions in Entomology

A Mindfulness Pilgrimage

We will close our forum by sharing some exciting new resources- including a fundraising toolkit for 4-H volunteers (and more door prizes!).

WHEN

January 20-21st.

WHERE

Embassy Suites in Destin, Florida. No need to make a reservation- your registration is your hotel reservation confirmation!

HOW

Registration opens in 4Holine on October 15th. The deadline to register is Friday, January 6th. Check with your local UF/IFAS Extension office to inquire about carpooling to and from the event. Dress for the weekend is casual (and comfortable)- we will be at the beach!

HOW MUCH

Thanks to donations from the Florida 4-H Foundation and other partners, the registration fee for individuals sharing a suite with another volunteer is $100.  The registration fee for a private suite is $150.  The registration fee includes the room fee, a conference welcome bag, magnetic name tag, heavy hors d'oeuvres Friday night, breakfast and lunch on Saturday, plus workshop and make-and-take supplies. Many counties are offering scholarships, so please check with your local UF/IFAS 4-H Extension Agent about additional funding.