Nothing says summer better than a gooey, yummy s'more!  They are the ultimate summer campfire dessert. In celebration of National S'mores Day, we are sharing a history of the s'more, a how-to video, and recipe card with our readers. You can make s'mores the traditional way over a campfire, but you can also make them in a microwave or also turn them into a science lesson by making them in a solar oven!
While you are hanging around the campfire with friends and family, here's a little history of the s'more:
Marshmallows were invented by the ancient Greeks and Romans for medicinal purposes (specifically to relieve inflammation and constipation). The first marshmallows were made from the plant Althaea officinalis. 
The French added egg whites and sugar, and marketed marshmallows as a treat with healing properties.
In the 19th century, confectioners began substituting gelatin for the plant juices, which made it much easier to produce marshmallows in mass.
The graham cracker was invented by a Presbyterian minister, Sylvester Graham, who believed eating plain, simple food prevented immoral behavior.
Marshmallow roasting parties became fashionable during the Victorian era.
We have the Girl Scouts to thank for bringing together chocolate, marshmallows and graham crackers!  The first recipe for s'mores appeared in the 1927 Girls Scout Handbook, and was called S'mores because they were so good, everyone would ask for "some more"
Nearly 100 years later, s'mores continue to be a favorite treat at 4-H camps. If it's too hot for a campfire this summer, you can also make this yummy treat in the microwave:
You can also download and share this recipe card: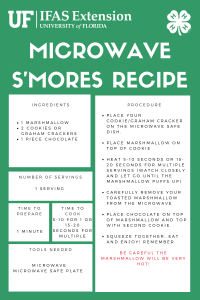 Making solar s'mores can be a fun 4-H club activity- National 4-H Council turned our previous solar s'mores post into a "4-H At Home" activity that you can also download and share.