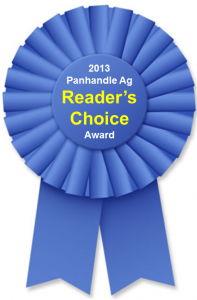 Panhandle Agriculture e-News was started in April of 2012, to keep farmers and ranchers informed about best management practices, current issues, pest alerts, ongoing research, and upcoming educational events.  County Agents and State Specialists published 207 articles in 2013.  All total, the project generated over 36,000 web page visits in 2013.  Use the comment section below to provide some feedback so the information you need most is provided each week, and when you have an opportunity, let your County Agent know how feel about Panhandle Agriculture e-News.
The 2013 Reader's Choice Award goes to:  Roy Carter, Gulf County Extension  for his article Managing Hive Robbing Behavior in Bees, published June 28, 2013, with a total of 602 page views.  In second place was Cool Season Forage Planting Decisions, written by Doug Mayo, Jackson County Extension, & Ann Blount, UF/IFAS NFREC, with 327 page views. Judy Ludlow, Calhoun County Extension, took third place with Warm Season Fish Pond Management, which received 307 page views.  Shep Eubanks, Holmes County Extension, received honorable mention for his article Peanut Maturity Determination, which received 301 page views.
Below are the 50 most read Panhandle Ag e-News articles in 2013, excluding event, government program, and award announcements.  Browse through and take a look at the articles you may have missed.  All of the articles posted on the website are searchable by topic or keyword, so if you don't find a topic of interest, go to the home page and use the search box to see what has been posted on the topic.
50 Most Read Panhandle Ag e-News Articles in 2013
Latest posts by Doug Mayo
(see all)