On Thursday August 21, 2014, twelve Innovative Farmers and Ranchers were recognized by University of Florida IFAS Extension and Farm Credit of Northwest Florida at the Jefferson County Opera House, in Monticello.  This is the fourth year these two organizations have teamed up to honor a selection of the most innovative farmers from the Florida Panhandle.
The purpose of the Agriculture Innovator Recognition Program is to annually recognize innovative farmers and ranchers from 16 Florida Panhandle counties, from Jefferson west to Escambia County.  In 2014, County Agriculture Extension Agents selected 12 Agricultural Innovators to be recognized.
All of the honorees have distinguished themselves as creative thinkers and leaders in the agricultural community.  From this group of elite farmers that were honored by their home county, one is selected annually to represent Northwest Florida. This year Cindale Dairy & Southern Craft Creamery of Jackson County, was selected as the Jackson County Agriculture Innovators.  Cindale Dairy was nominated by Doug Mayo, Jackson County Extension Director.  Read more about the Eade Family and their farm below. The other Agricultural Innovators nominated this year will be featured on the Panhandle Ag e-News over the coming weeks.
Cindale Farms and Southern Craft Creamery – Jackson County Agricultural Innovators
The Eade family has been working full time in the dairy business for 34 years. In 1994, Dale left a salaried position at a 2000 cow dairy in Jefferson County primarily managing people, to strike out on his own and get back to managing cows. The Eades moved to Jackson County because they were able to find dairy farms available for lease. In 2003, they built up enough equity to purchase 500 acres of land, giving Cindale Farms a permanent home. They grew their herd to 350 lactating cows, with another 250 cows serving as replacements in the milk rotation.
Dale and Cindy have always looked at new innovations in the dairy business, but the size of their herd has limited the adoption of fancy systems, equipment and facilities. Their greatest innovation was developing the business to the point that they could include the families of their two adult daughters. Dale and Cindy, both college graduates, put their daughters through school as well. Meghan graduated from veterinary school, and Lauren got a degree in food and resource economics. Brad, Meghan's husband, has a PhD in cattle reproduction and nutrition. Zach, Lauren's husband, served in the Marines and has a degree in aviation management. While most farm kids go off to college and build their own lives in new locations, this family found a way to come back together on the farm.
Meghan and her husband, Brad Austin, came back to the farm first, in 2009. The expertise that Brad and Meghan added helped to reduce costs and enhance the performance of the cattle by improving the nutrition, health, and reproduction of the herd. Brad works full-time at the dairy, and Meghan balances her time between her part-time cattle practice, and managing the health of the dairy herd. A popular trend, at the time, was to manage dairy cows on intensive grazing systems as a way to reduce high feed prices. Dale had managed the herd with a more traditional mixed-feed ration system. Dale and Brad combined their experience and expertise to develop a hybrid system, utilizing both grazing and mixed-rations, to maintain their herd size, while fully utilizing their land resources. With a more efficient herd, two families could make a living without expansion.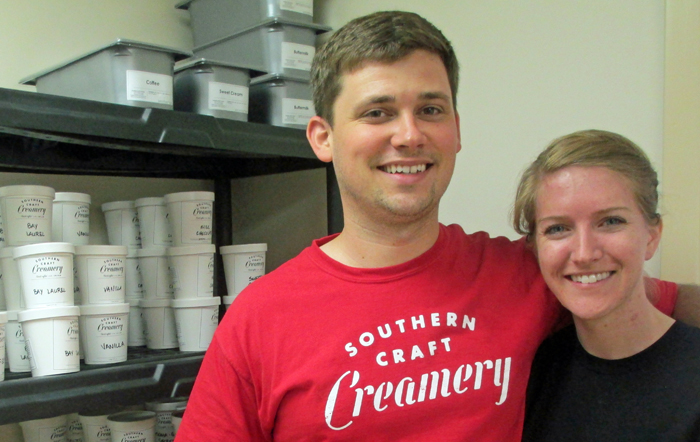 In 2012, Lauren and Zach came back to the farm with the idea of creating a value-added product from the raw milk produced at the dairy. Liquid milk is a very competitive market, and cheese requires aging and significant inventory, so they decided to create a hand-crafted ice cream. The first step was to learn the science of ice cream from special schools offered at Penn State and Wisconsin. Next, they had to research the skills and the processes needed to make hand-crafted ice cream. Then, they had to find rare micro-equipment and retrofit it to meet current food safety standards. In February 2013, after a full year of trial and error to perfect their process and to develop unique flavors, they launched an artisan line of ice creams under the brand name "Southern Craft Creamery."
Ice cream is normally made in large quantities with automated equipment. What makes Southern Craft Creamery ice cream special is that nothing is automated, only made in small batches, with a unique process for each flavor. They slow pasteurize the milk, allowing the flavors to be enhanced during the heating, and then age the ice cream for 12 hours as it slowly cools down before freezing. The flavoring ingredients come only from local farms or known sources, to ensure the same high quality as the milk that serves as the base. Their product is unique, but so is their marketing system. Southern Craft Creamery ice cream is not sold in chain grocery stores, but through locally owned specialty stores and restaurants, creating a direct path from their farm to the local consumer's table.
Cooperative Work with the Extension Service
One of the real advantages of the whole family working on the farm is that it frees up time to engage with the community. The entire Eade family, and their extended family, is very passionate about telling the story of agriculture, and the positive benefits local farms have on the economy and the community. Cindale Farms has hosted numerous farm tours for consumers, decision makers, extension workers, 4-H clubs, FFA students, teachers, and school children, to share the story of dairy farming and all of the wonderful products made from raw milk. They have participated for more than 10 years in "Ag in the Classroom" field trips for school students in the county. Cindy serves on the Board of Directors of the Jackson County Chamber of Commerce as their agriculture representative. She has worked very closely with Extension on the annual Farm City Week Celebration and the scholarship program for college students from farm families that are pursuing degrees in agriculture. Cindale Farms is located within a few miles of the University of Florida's North Florida Research and Education Center. Their location and cooperative nature have made the dairy an ideal site for on-farm trials.
Leadership in the Agriculture Industry
Dale is the Vice President of Southeast Milk Incorporated, the cooperative that handles the majority of milk sales in the state of Florida. He also serves on the Board of Governors for three milk processing plants, and is Chairman of the Pricing Committee that sets the price for raw milk in the region. Dale also serves on the Florida Department of Agriculture's Dairy Industry Technical Council. In addition to her work with the Chamber of Commerce, Cindy also serves on the Board of Directors for Northwest Florida Farm Credit. Brad and Meghan serve on the Florida Farm Bureau Young Farmer & Rancher Leadership Committee. Brad is the Past President of this committee, and also serves on the Florida Farm Bureau Board of Directors. Through their wholesale ice cream business, Zach and Lauren have become ambassadors for agriculture. Part of the goal of their marketing efforts is to create open conversation with consumers, retailers, and restaurant owners about how food is grown and what consumers seek from the foods they consume.
You might also be interested in the stories of other Agricultural Innovators highlighted in previous weeks:
Latest posts by Doug Mayo
(see all)