On Tuesday August 4, 2015, twelve Innovative Farmers and Ranchers were recognized by University of Florida IFAS Extension and Farm Credit of Northwest Florida at the Jefferson County Opera House, in Monticello.  This is the fifth year these two organizations have teamed up to honor a selection of the most innovative farmers from the Florida Panhandle.
The purpose of the Agriculture Innovator Recognition Program is to annually recognize innovative farmers and ranchers from 16 Florida Panhandle counties, from Jefferson west to Escambia County.  In 2015, County Agriculture Extension Agents selected 12 Agricultural Innovators to be recognized.
All of the county honorees have distinguished themselves as creative thinkers and leaders in the agricultural community.  Bill and Brenda Maphis, from Chipley, Florida were honored as Agricultural Innovators in Washington County.  Bill and Brenda were nominated by Matt Orwat, Washington County Horticulture Agent.  Read the story of Maphis Nursery and Tree Farm below.  Agricultural Innovators from other counties will also be featured in Panhandle Ag e-News over the coming weeks.
Bill and Brenda Maphis
Washington County Agricultural Innovators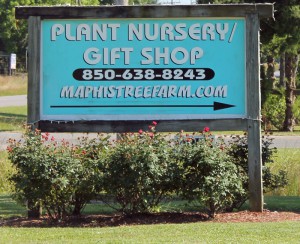 Bill and Brenda Maphis met in 1967, but did not consider opening a tree farm and nursery until 1999, when Bill retired from his position as a state park manager for the Department of Environmental Protection (DEP). He finds his farming and nursery operations even more exciting than his time with the DEP. In addition to running a tree farm and nursery, Bill enjoys demonstrating historical farming and corn processing equipment at local festivals, keeping historical techniques alive in the 21st century.
Since 1999 his Christmas tree farm sales have grown 10 fold, plus he has added a nursery and landscape business. Maphis Tree Farm has 5-6 acres of Christmas tree plantings plus several acres of nursery production and fruit tree demonstration. This operation is novel and innovative because it combines several niche areas of tree farming, ornamental nursery, fruit & vegetable nursery and landscaping business into one operation. An innovative procedure they have employed in their Christmas tree planting is growing trees on small berms. This process keeps root rot susceptible tree roots away from flood waters during periods of heavy rain. This is an innovative solution to their losses in the 2013 flood events that caused extremely large losses in Washington County. Their tree farm is a local agro-tourism destination, bringing in visitors from many miles around to cut trees and buy plants in Washington County.
Currently, his son Tommy and daughter Carrie work with the business full time along with this grandchildren Dylan, Ashley and Benjamin Maphis. Additionally they employ Daniel Boston as part of their landscaping business. They are truly an innovative farm family!
Improving Agriculture through Extension Involvement
They have been a valuable partner with Extension, teaming up with us to offer educational classes in fruit tree culture, landscaping, grafting, pruning, and plant propagation. Classes have been offered in conjunction with the Washington County Horticulture Agent. The proximity of their fruit tree demonstration plots enhances the ability of Washington County Extension to conduct hands-on fruit tree pruning and care workshops. This has assisted numerous local small farmers and home gardeners in the establishment of their fruit tree orchards. In addition, they are offering for sale transplants of UF/IFAS recommended vegetable varieties that are hard to find locally in the nursery trade. These activities significantly contribute to the growth and stability of the horticulture industry in Washington County.
Impacting Agriculture in Northwest Florida
The regional impact has been twofold. First, they offer UF / IFAS recommended fruit trees and vegetable transplants when other business do not, thus they are the only local source for many agriculturally important fruit and vegetable cultivars. Secondly, they consult with the extension office on a regular basis and inform their customers of the offerings of extension. This action enhances the community because more individuals rely on extension as a resource and thus have greater success in their operation, be it farm or home garden.
You might also be interested in the stories of other Agricultural Innovators highlighted in previous weeks: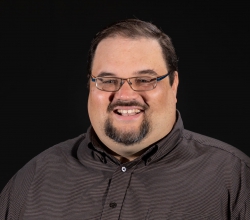 Latest posts by Matthew Orwat
(see all)