On Thursday August 21, 2014, twelve Innovative Farmers and Ranchers were recognized by University of Florida IFAS Extension and Farm Credit of Northwest Florida at the Jefferson County Opera House, in Monticello.  This is the fourth year these two organizations have teamed up to honor a selection of the most innovative farmers from the Florida Panhandle.
The purpose of the Agriculture Innovator Recognition Program is to annually recognize innovative farmers and ranchers from 16 Florida Panhandle counties, from Jefferson west to Escambia County.  In 2014, County Agriculture Extension Agents selected 12 Agricultural Innovators to be recognized.
All of the honorees have distinguished themselves as creative thinkers and leaders in the agricultural community.  From this group of elite farmers that were honored by their home county, one is selected annually to represent Northwest Florida. This year Greg Jubinsky was selected as the Gadsden County Agriculture Innovator.  Jubinsky was nominated by Alex Bolques and Henry Grant, Gadsden County Extension.  Read more about his and Ragged Glory Farm below. The other Agricultural Innovators nominated this year will be featured on the Panhandle Ag e-News over the coming weeks.
Greg Jubinsky – Gadsden County Agricultural Innovator
Submitted by Extension Agents: Alex Bolques and Henry Grant

Ragged Glory Farm is a Certified Naturally Grown (CNG) operation since 2006. Greg and wife Mil Jubinsky farm on a small-acre farm using organic production practices. Greg was a botanist with the State of Florida for over 30 years, during which he was awarded the Florida Native Plant Society's "Green Palmetto" in 2010.  It is the highest honor to be awarded for environmental stewardship relative to the preservation of native plant populations and diversity in Florida. He has received the Department of the Interior's Cooperative Conservation
Service Citation for dedication to national parks in Florida (2007) and the Florida Exotic Pest Plant Council Lifetime Achievement Award (2013). He has completed two certification programs with the UF/IFAS Leon County Extension: 1) Permaculture Design-Beyond Sustainability to Permaculture and Regeneration: reconnecting people's lives with Earth's operating systems (2013) and 2) Building Your Own Farm's Food Safety Manual (2014). Greg served on advisory panel for FDACS Grades and Standards for Ornamental Landscape Plants in Florida (1983). He is a graduate of the Lively Vocational School of Horticulture (1989). Most recently, Greg has initiated the Havana
Growers Market and serves as Market Manager (2013).
Prior to retiring from State service, Greg worked towards designing a small farm operation that focused on minimizing inputs while maximizing produce outputs.  Through the utilization of numerous permaculture techniques, including usage of slope contouring, low volume irrigation, crop rotations, minimal tillage practices, sheet composting, and green manures, he has been successful in establishing a sustainable small-scale farm operation that capitalizes on reduced labor, financial, and material inputs.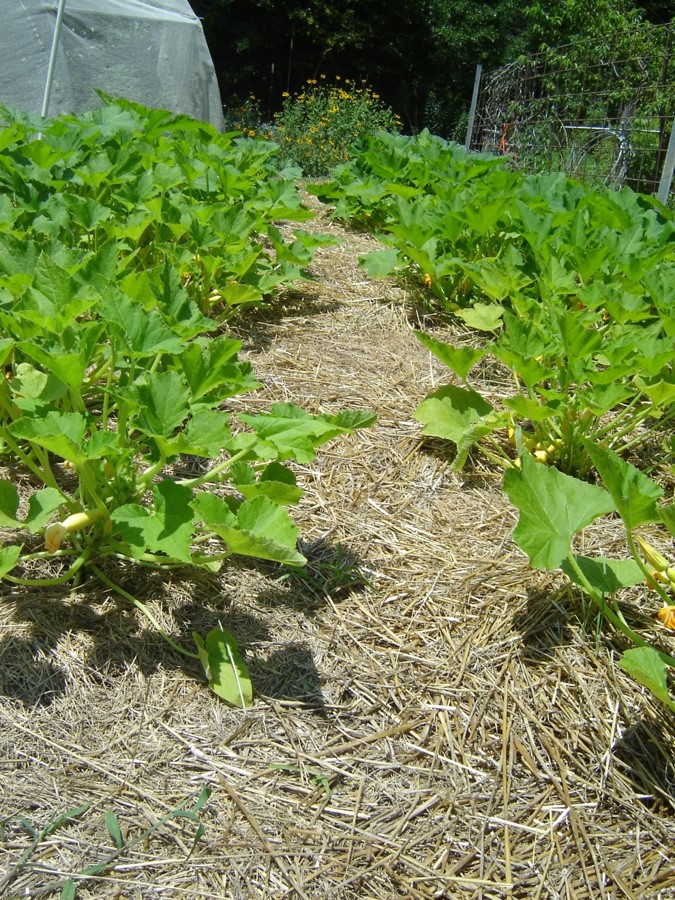 Unlike conventional vegetable production, the use of permaculture concepts coupled with crop rotation practices, heavy mulching during the growing season, use of green manures (buckwheat, crimson clover, and Abruzzi rye), and minimal tillage-pest control issues (both insect and weeds) are nominal and require very little attention. These practices ultimately lend themselves to reduced labor costs, thereby
increasing profit margin through permaculture practices.
Ragged Glory Farms is part of the Red Hills Small Farm Alliance (RHSFA), a nonprofit organization working to strengthen the sustainable small farm community by promoting economic stability of small farm enterprises.  Greg has the option of marketing his farm produce through RHSFA on-line market, on his personal on-line market website with 109 weekly subscribers to date and through the Havana Growers Saturday Market which he has initiated.
Ragged Glory Farms seedlings are produced from biological-heirloom seeds. The farm has a wide population of native perennial wildflowers present during the growing season which encourage the presence of pollinating bees, wasps, and Bacillus thuringiensis for insect control. The farm uses cold-hydrolyzed fish emulsion as its primary fertilizer source, green manures (crop residue) to rebuild soils between crop planting, and sheet mulch to regenerate organic materials into soils. Growing beds are prepared with an old-fashioned broadfork to aerate soil and minimize native soil insects and microbes. Farmscapes with "Trap Crops" are used around production borders for stinkbug and other insect management. Another cultural practice utilized includes mulching with organic materials generated from power tree maintenance; the mulch is then used for sheet compost to build soil for raised beds, as well as incorporated into the composting operation and in terracing planting areas to minimize/eliminate erosion of soils and reduce water runoff.
Collectively through the use of these innovative permaculture and sustainable production practices, Ragged Glory Farms produces high quality, locally grown food available to the Gadsden County community.
Cooperative Work with the Extension Service
Greg has worked with Extension to improve his knowledge-base and that of others in the Northwest Extension District by acquiring knowledge through personal communications with Leon/Gadsden extension agents, educational activities and certification programs and
transferring it to fellow farm producers in the RHSFA, customers, family and friends. He is a great supporter of the "Solutions for Your Life" extension website and recommends it to others as an excellent source of information; he used it to access publications, county extension resources, timely articles, and learning opportunities. He is always available to collaborate with extension as he does in Leon County with a
Fall Woody Plant Identification Workshop.
Leadership in the Agriculture Industry
Through the Red Hills Small Farm Alliance (RHSFA), Greg works with the USDA and the City of Tallahassee on a grant project to identify small farms, determine their marketing needs, and develop recommendations for greater farmer's market participation by small farm producers. Through the experiences and outcomes of this grant, he has been motivated to initiate the Havana grower's market start-up. As part of his Naturally Grown certification, Greg is a CNG inspector and has inspected many farms in the Big Bend and RHSFA.
You might also be interested in the stories of other Agricultural Innovators highlighted in previous weeks:
Latest posts by Doug Mayo
(see all)