On Tuesday August 4, 2015, twelve Innovative Farmers and Ranchers were recognized by University of Florida IFAS Extension and Farm Credit of Northwest Florida at the Jefferson County Opera House, in Monticello.  This is the fifth year these two organizations have teamed up to honor a selection of the most innovative farmers from the Florida Panhandle.
The purpose of the Agriculture Innovator Recognition Program is to annually recognize innovative farmers and ranchers from 16 Florida Panhandle counties, from Jefferson west to Escambia County.  In 2015, County Agriculture Extension Agents selected 12 Agricultural Innovators to be recognized.
All of the county honorees have distinguished themselves as creative thinkers and leaders in the agricultural community.  Susan and Larry White, from Panama City, Florida were honored as Agricultural Innovators in Bay County.  The Whites were nominated by Julie McConnell, Bay County Horticulture Agent.  Read the story of Allan Acres Farm below.  Agricultural Innovators from other counties will also be featured in Panhandle Ag e-News over the coming weeks.
Larry & Susan White

Bay County Agricultural Innovators
The story of Allan Acres in Bay County may not wow readers with technological advances and fancy farming techniques, but what it does demonstrate is an overwhelming desire to keep a family farm just that – family owned. The farm has remained active, as the fifth generation participates in its activities. The fourth generation of the Allan family, Larry and Susan Allan White are currently responsible for preserving the heritage of this family farm.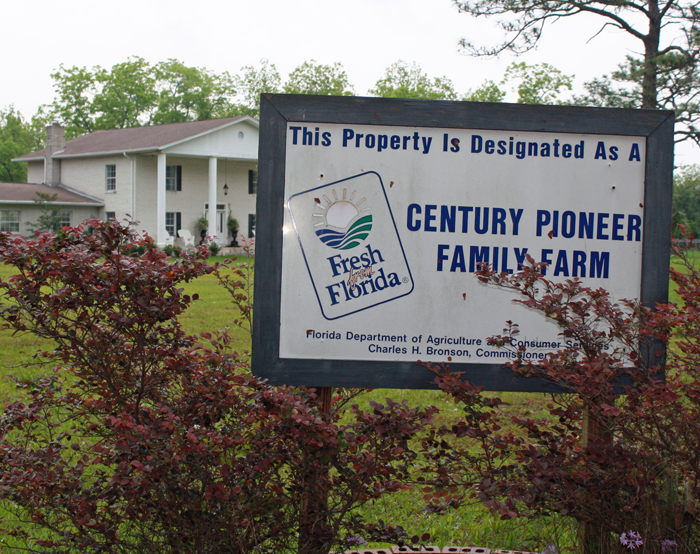 In 1902, Andrew Allan and his wife Laura Jane Templeton Allan moved their family from Michigan to a large property on East Bay in Washington County, Florida.  This property became part of the newly incorporated Bay County, Florida in 1913. The community was named Allanton and remains on some maps as a result of the post office, which served the community.
One of Andrew and Laura Jane's children, Charles (Charlie) Allan, continued to live on the family land and made it home for his family. They planted pine trees, had a pecan orchard, grew row crops, and maintained a herd of cattle. The chicken coop, which was probably built in the 1930s, continues to be used by Susan and Larry. There remain signs from this period of farm life, which include barns and a 3-seat outhouse. Charlie moved his wife and younger children to Callaway in the 1950s. He served as the mayor of Callaway during this time. He was particularly proud of his recognition by Governor Claude Kirk for growing pine trees.
Susan's Father, Harry Allan, majored in forestry at the University of Florida. He was the base forester/ biologist at Tyndall. He won many national awards, including the Secretary of Defense Environmental Award for Natural Resources Conservation in 1965. Harry and Nelyne Allan completed their family home at Allanton in 1972. By this time, Susan was attending FSU. After Harry's death in 1997, Susan struggled to keep the family farm. Due to inheritance taxes, Susan had to cut all available timber and
sell some of the land.
In 2005, Susan and Larry left Georgia and moved to the family farm. After spending their careers in public education, they began a new career as farmers. They maintain the 540 acre farm, which now consists primarily of pine trees. All land has been put back in production after paying the inheritance tax obligations. They keep approximately 40-50 cows, about the same number of chickens and a few guineas. Many of their hens have stopped laying eggs and are enjoying retirement on East Bay. The Florida Forest Service has helped develop the land stewardship program that guides the future of this farm.
Improving Agriculture through Extension Involvement
With no farming experience Susan and Larry have depended on UF/IFAS Extension for support. Bay County does not have an agriculture agent assignment, so they called on the Gulf County office in Wewahitchka where Larry was serving as the high school principal. They connected with Roy Lee Carter who helped tremendously with basic farming information, and procuring, assessing, and taking care of cattle. The Gulf County Cattlemen's group provides instruction and support through meetings and training. UF/IFAS training sessions related to tree farms and effective practices for raising cattle have been immensely helpful! The UF soil sample assessment service has been particularly helpful in identifying nutrients needed by the 80 to 90 year old pecan trees.
Impacting Agriculture in Northwest Florida
Susan's father was active with the Bay County Farm Bureau for many years. Susan and Larry currently serve on the board and Larry is the President of the Bay County Farm Bureau Board. The cooperative efforts of Farm Bureau and UF/IFAS have resulted in a wide variety of educational activities in Bay County. These include Ag-in-the-Classroom, grants for classroom teachers, visits to farms in the area and college scholarships. UF/IFAS Extension online articles and other professional resources served as the foundation for the 2014 sustainable farming exams, which Larry and Susan developed for the Envirothon program.
The White's farm is the only Century Pioneer Family Farm that has been identified in Bay County. Larry and Susan have depended on the support of professionals with UF/IFAS Extension to maintain their family farm. They are grateful for the support in the important job of land stewardship as they preserve the environmental resources for future generations.
You might also be interested in the stories of other Agricultural Innovators highlighted in previous weeks:
Latest posts by Doug Mayo
(see all)