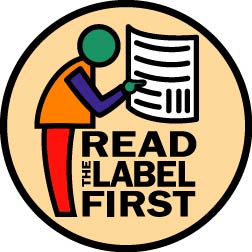 When you contact your local extension office for pest control recommendations you will likely hear "follow the label" over and over again. So, why do we emphasize the pesticide label so strongly when talking to both homeowners and landscape professionals?
There are many important reasons why you should always read and follow label instructions.
 The Label is the Law – using a pesticide in a manner that is inconsistent with the label is a violation of the Federal Insecticide, Fungicide, and Rodenticide Act (FIFRA). Using a product inconsistent with the label includes, but is not limited to: rate of application, use on site not labeled for control, use on plants/lawns not labeled, frequency of application, method of application, distance from water sources, etc.
 Safety of Humans – using a product incorrectly can cause harm or even lead to death
 Safety to Non-target Organisms – this includes non-target insects, reptiles, birds, fish, mammals, and plants which can lead to negative impact on environment and economy
 Effectiveness of Product – millions of dollars are spent to figure out the most effective way a product works best, follow their instructions! (remember the manufacturer wants the product to be effective so that you'll recommend to others and buy it again)
 Increased Resistance Decreases Control – improper application and a failure to rotate products as part of an integrated pest management program can increase likelihood of resistant pest populations
Before shopping for any pesticides, do some research:
Has the pest been identified properly? What life cycle stage is the pest at? Most pesticides have different levels of efficacy depending on life cycle of target. For example, glyphosate works best on young plants that have not yet flowered. Your local extension office can help with identification and timing of control methods
Can you control the pest with cultural practices such dethatching, irrigation, fertilizer, or mowing height changes? Start with the least toxic method of control and only work up if ineffective
Read the label before you buy to be sure that it is labeled for your plant /lawn, target pest. The label will also tell you what equipment you'll need to mix and apply and safety equipment. If product is not ready to use, be sure you can follow mixing and application procedures safely
Are there particular environmental precautionary statements that are relevant to your site?
How much do you need? Have you measured the area for treatment? Just as you don't want to make multiple trips to the store, you also do not want a lot of excess chemicals on hand. They have to be stored or disposed of according to label instructions, too
For more information about pesticide labels read EDIS PI-34 Interpreting Pesticide Label Wording.
Latest posts by Julie McConnell
(see all)