By Dr. Muhammid Shahid
What is puffiness?
Taste and size of citrus fruits are important attributes that determine profit. Since, consumers prefer firm citrus fruit, packing houses only accept fruits of specific size without softness. Therefore, fruit that grow too large and don't fill out properly are unmarketable and growers discard all these types of fruits. This condition is called puffiness. As fruit diameter becomes ever larger, fruit pith (the area between flesh and the peel of fruits) becomes thick and causes the fruit to shrink inward and lose its normal spherical shape. So far, this problem has been observed in both backyard and commercial Satsuma groves in North Florida, South Georgia, and Southeast Alabama. Citrus puffiness is a threat for all growers from an economic and overall yield point of view, because puffed fruits are unmarketable resulting reduced profit margins.
Possible causes
A few scientific reports suggest that low fruit loads on citrus trees can cause puffiness, but the actual mechanism of puffiness still need to be explored. Based on observations, the team from our lab (Fruit Physiology lab, NFREC, Quincy) and collaborators lead by Dr. Muhammad Shahid has concluded that there are three possible causes of puffiness in citrus i.e., genetic, environmental, or nutritional. In our next phase of research, we will dig deep into this issue and try to determine what is the actual cause of puffiness. Fruit puffiness is observed more in young (4-6 years) satsuma groves than in mature groves. Puffiness on old trees could be due to fruit setting on late blooms during hot conditions. Overall, fruit puffiness is less of a concern in sweet oranges, limes and lemons as compared to satsumas.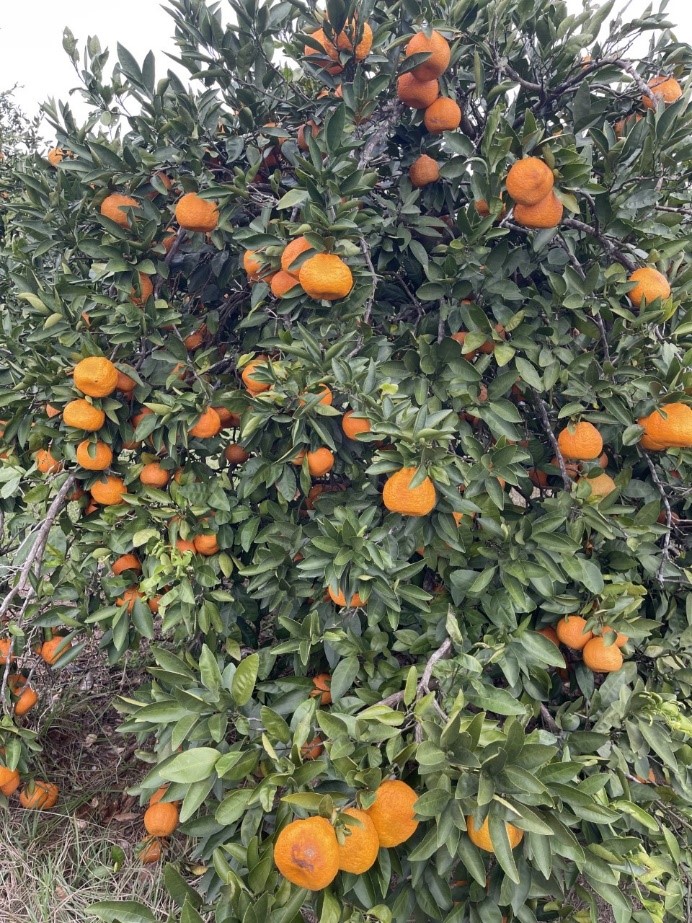 Puffiness study by Fruit Physiology Lab, NFREC, Quincy
In our preliminary study, we divided puffiness into five different grades based on fruit size. Grade one is marketable fruits (firm without puffiness). Fruit diameter and puffiness increase gradually in grades 2, 3, 4, and 5, respectively. We have collected fruits from different groves in north Florida and the common denominator among these fruit was decreased Brix value (a common measure of sweetness) with increased puffiness. Average fruit diameter with maximum puffiness was around 40cm and these puffy fruit weighed around 475g. With increasing puffiness, peel weight was increased while juice contents were reduced – not great!
Most satsuma groves in North Florida have some degree of puffiness. However, amount and grade of puffiness varies by grove. In our observations, citrus groves in South Georgia also have puffy fruit, which clearly indicates that puffiness is not geographically specific and can develop in any citrus growing region. After visiting a number of farms in North Florida, we concluded that puffiness is mostly an issue with the Satsuma cultivar 'Owari' regardless of different rootstocks. Having said this, we can't say with confidence that puffiness couldn't appear on other varieties of citrus without further study. We are carefully monitoring all our variety evaluation trials at the UF/IFAS North Florida Research and Education Center (NFREC), Quincy, in collaboration with citrus breeding and postharvest experts from Citrus Research and Education Center (CREC) and Indian River Research and Education Center (IRREC). We are working on different aspects of citrus production including nutrition, crop load, and pruning to identify the actual cause of puffiness and how to effectively mitigate it in Satsuma groves in north Florida.