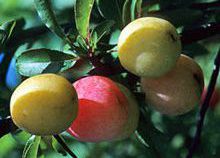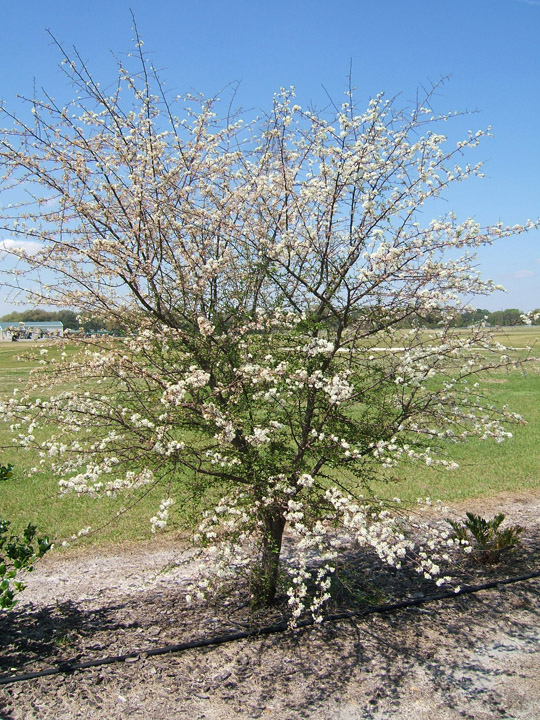 The native Chickasaw plum is a beautiful smaller tree (12-20 ft mature height) that is perfect for front yards, small areas, and streetscapes. True to its name, the Chickasaw plum was historically an important food source to Native American tribes in the southeast, who cultivated the trees in settlements well before the arrival of Europeans. They typically harvested and then dried the fruit to preserve it. Botanist-explorer William Bartram noted the species during his travels through the southeast in the 1700's. He rarely saw it in the forests, and hypothesized that it was brought over from west of the Mississippi River.
One of the first trees to bloom each spring, the Chickasaw plum's white, fragrant flowers and delicious red fruit make it charmingly aesthetic and appealing to humans and wildlife alike. The plums taste great eaten fresh from the tree but can be processed into jelly or wine. Chickasaw plums serve as host plants for the red spotted purple butterfly and their fruit make them popular with other wildlife. These trees are fast growers and typically multi-trunked.
Almost any landscape works for the Chickasaw plum, as it can grow in full sun, partial sun, or partial shade, and tolerates a wide variety of soil types. The species is very drought tolerant and performs well in sandy soils.
The plum is in the rose family and has thorns, so it is wise to be aware of these if young children might play near the tree.
Winter is ideal tree-planting time in Florida. While national Arbor Day is in spring, Florida's Arbor Day is the 3rd Friday of January due to our milder winters.
For more information about tree selection in northwest Florida, contact your local county Extension office.