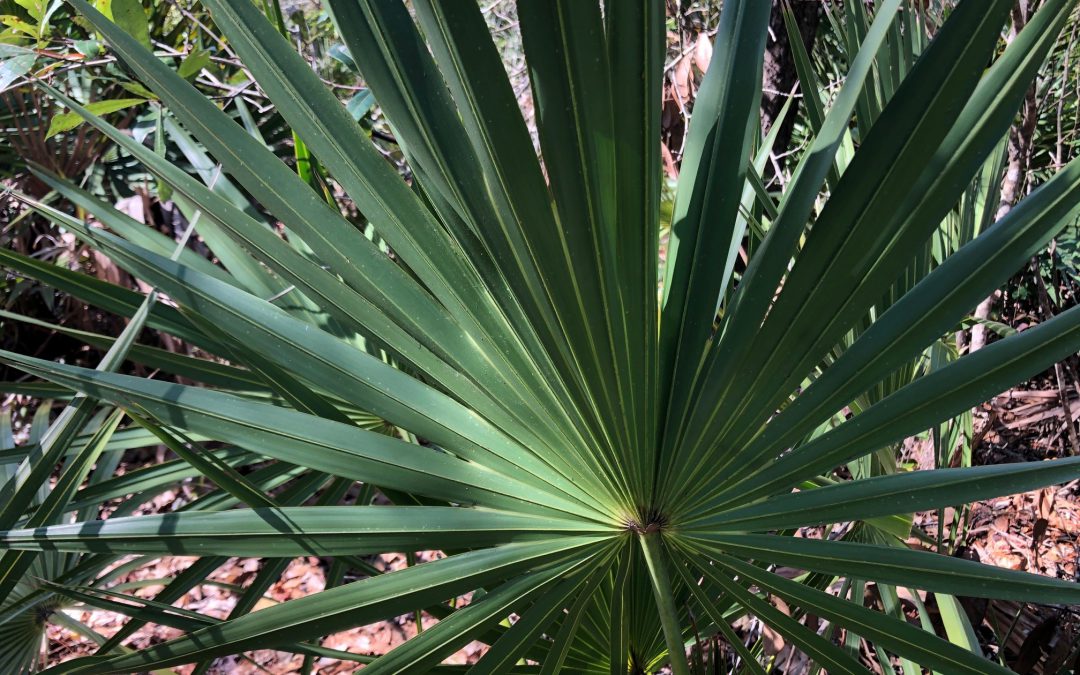 The saw palmetto (Serenoa repens) is a classic symbol of Florida. Found in upland habitats and just to the edge of wetlands, their brilliant green fronds stand out in the mostly brown pine flatwoods and oak hammocks to which they are endemic. The shrublike saw palmetto thrives in sandy soils, is highly salt tolerant, and is tough as nails. The plant's root is one of the sturdiest in nature. Imagine the trunk of a palm tree laid horizontally and just underground—this is the plant's base. This root system lends stability and tolerance to nearly every tough Florida growing condition, including drought, floods, and fire. Saw palmettos are extremely slow growing, and there are stands in south Florida in which botanists have found individual plants and clonal colonies several thousand years old. Saw palmettos are one of the few members of the palm family that thrive in the panhandle. While many palm trees are planted here, most are native to more southern climates with warmer winters and karst geology—a higher pH soil composed of limestone and often prone to springs and sinkholes.
The saw palmetto's name comes from the serrated, saw-like edges of the stem. These are quite tough and can cut your skin and clothing if not careful. A very similar palmetto, the bluestem, grows in wetter soils. It can be differentiated from the saw palmetto because its stems are smooth—no serrated edges—and the whole plant has a bluish cast to it.
The saw palmetto has long been prized by humans for its practical uses. The "ethnobotanical" history of this plant has ties to Native American tribes who used the fronds for roofing and building material, brooms, fishing nets, and fans. The leaves were utilized for rope, and multiple plant parts for food and medicine. The dark blue/black fruit of the saw palmetto was considered an aphrodisiac and has been used to treat prostate problems for centuries. According to a UF publication on the saw palmetto, "Modern day development of a purified extract from the berries greatly improves symptoms of enlarged prostate. Florida is the biggest source and producer of saw palmetto products. With about 2,000 tons harvested from South Florida and exported to Europe each year, the fruit crop estimate is $50 million a year in the state."
Besides the human uses, saw palmetto serves as a crucial component in the diet of native wildlife. Florida black bears, panthers, 20 other species of mammals, over 100 types of birds, 25 amphibians, over 60 reptiles, and countless insects depend on saw palmetto berries as part of their diet. The wild harvest of saw palmettos is regulated by the state to prevent overharvesting and negative impacts to the wildlife food supply.
Saw palmettos also make a great home landscape plant, as they can grow in a wide variety of conditions, provide wildlife food and habitat, and add visual interest. There are few plants more "low-maintenance" than an established saw palmetto. A mature one is so difficult to remove, that it's best to leave it where it is anyway!