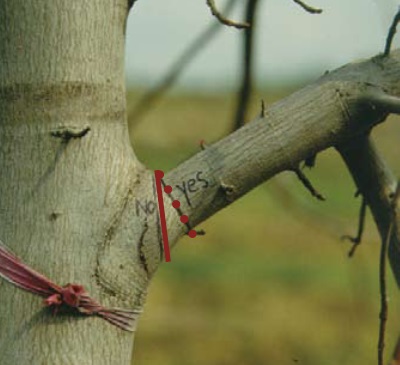 Pruning is a much needed yet often misunderstood practice. This is perfectly understandable as most people look at a tree and wonder which branches need to be cut, why they need to be cut, and what time of year is appropriate to do so. Confusion is understandable, but a better grasp on a few key concepts will clear everything up.
Structure
Before you begin to look into anything else, it is important to understand the structure of a tree. For the purposes of pruning, we'll focus on roots, and stems. The roots of a tree anchor it to the ground providing water and nutrition to the main stems of the tree. Roots and stems in any plant are a delicate balance. Cutting stem tissue will affect roots so don't remove too much in a single session. A good rule of thumb is to not take more than 1/3 of the stem tissue present. The next concept is the natural shape of the tree you want to trim. Most have one dominant leader with supporting branches forming the canopy. In these cases, remove competing leaders to keep the canopy full and well-shaped. Other trees such as crape myrtle (Lagerstroemia indica) are multi-stemmed with 2-3 codominant leaders. Prune away any challengers to your main leaders while keeping the "vase" shape for which these trees are known. With this in mind, it's time to decide which stems to remove.
What to Cut
Safety and tree health are the focus as a homeowner decides which stems need pruning. When a branch is to be removed, make your cut It is important to keep the branch collar in mind when making your cuts. This collar is denoted as a ring of tissue at the connection of branch and trunk. Cut as closely as possible without disrupting this tissue. Any dead, diseased, and damaged branches are the first needing cut. They take resources from the healthy branches and are unsightly. Next, look for any crossing limbs. These scrape against one another as the wind blows and risk destroying bark tissue making the tree susceptible to disease. Focus next on structural issues or tree shape. Remove challenges to the leaders as outlined in the previous paragraph. Safety concerns will be your next focus. Look for bark inclusions which are weak connections indicated with a "V" shaped fork between limbs which may fail in high wind. If found, consult a certified arborist as pruning may not be your only option. Finally, eliminate lower limbs impeding walkways and any drooping from their own weight. This is also when species specific pruning is prudent to promote flowering or fruiting.
When to Cut
Now that we know what to prune, when is it prudent to do so? This cycle will vary based on quality of stock from the nursery, age of the tree, growth rate, and how prone they are to decay. In Florida, this is on average every three years. Keep in mind the "May rule" when considering what time of year to prune. Any plant blooming prior to May should be pruned once flowering has ceased, but no later than July. Any plant blooming after May should be pruned around February or March at the latest.
Pruning is an important practice for keeping your trees healthy and ensuring safety. With some knowledge you'll find it is not the mystery you may have thought it to be. For more information on pruning, please see these IFAS documents, or contact local extension agent for additional information on this and any topic regarding your gardens and more.