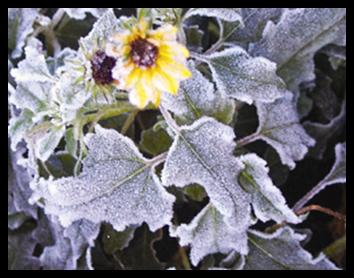 December is finally here and that means consistent nights of watching for dropping temperatures.  Tropical plants and newly installed shrubs are susceptible to cold injury.  Those colorful, blooming plants that have added a tropical look to the landscape all summer may begin to suffer when the temperatures drop below 500 F.  Leaves may turn yellow and flowering stops. These plants will need to be moved inside or have temporary greenhouse built around them.  But, hardy plants that haven't established a sufficient root system will also need additional attention when the temperatures drop dramatically.
The ability of plants to endure a freeze depends on the species and the weather leading up to the extra cold night.  Gradual decreases in temperatures helps plants acclimate to winter.  But, a sudden one day drop of 40-50 degrees results in a rapid freeze that causes ice to form inside the plant cells.  Leaf and stem tissue expands so quickly that it splits, resulting in parts of the plant incapable of transporting water and nutrients, as well as, performing photosynthesis.  However, it may be late the following spring before the damage is noticed, when that section of the plant has slowly staved to death.
Additionally, plants can experience desiccation or drying out.  This happens when dry winds and solar radiation result in the loss of more water from the leaves than can be transported by a cold root system.  The resulting symptom is marginal and/or tip burning of leaves that leads to totally brown leaves.
Freezes (when the temperature drops to 320 F) are characterized as radiational or advective.  Radiational freezes occur on calm, clear nights when heat radiates from the surfaces of plants, making them colder than the air due to the rapid loss of heat.  If there is moisture in the air, ice will also form on the surfaces.  Under these conditions, ice forms between plant cells, rather than within the individual cells.  Most hardy plants can tolerate these type of freezes if they are properly hydrated.
Advective freezes occur when cold northern winds move in rapidly, dropping temperatures quickly, and causing widespread foliage desiccation. Cultivation and maintenance practices can impact a plant's ability to endure extended periods of low temperatures.  Shade-tolerant species installed under the canopy of a tree typically display less injury from radiational freezes because the trapped heat from the ground and the overhead foliage creates a microclimate.  Well-watered soil around a plant will absorb solar radiation during the day and re-radiate heat over night, raising the temperature around the plants. Shrubs that are not pruned in the late summer or fall have leaves that can withstand frost and wind.  But, the removal of foliage late in the growing season triggers a flush of new growth, that is very sensitive to lower temperatures. The same response can result from fertilizer applications after plant's have slowed down in growth.
So, what can you do to prepare for upcoming freezing temperatures?  Begin by avoiding pruning and fertilizing at the end of the season and making sure that the plants have been watered within 24 hours of a cold night.  Next, insulate against water loss and increase heat radiation by adding a three-inch of mulch, as well as, covering the trunks of sensitive trees with a commercial tree wrap.  Then, consider what needs to be covered.  Frost cloth or other breathable fabrics can trap heat for the night and provide a protective layer from frost settling on the leaves.  It needs to be placed by mid-afternoon and removed the next day when temperatures are above 320 F.  Plastic is not recommended unless the timing regime can be followed reliably and a structure is used under the material to keep the plastic off the foliage.  Anchoring of the cover is critically important in the event of an advective freeze.
Finally, turn off the sprinkler system.  Commercial agriculture often uses a running irrigation system to keep the leaf surface temperatures near, but not below, 320 F because sprinkling utilizes latent heat released when water changes from a liquid to a solid state.  The thin layer of ice melts and re-freezes on the surface throughout the night, without ice forming within the plant tissues.  For the technique to work, sprinkling must begin as freezing temperatures are reached and continue until thawing is complete.  Landscape systems are not designed to deliver the amount of water over the length of time required to accomplish this type of frost protection.
When the cold nights have passed, don't forget to check your plants for water. But, wait until winter has passed before pruning out the frost damaged stems.