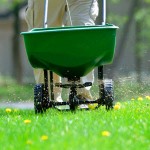 As of January 2014 all companies applying fertilizer, commercially "for hire", will be required to hold a fertilizer applicators license.  In order to obtain this license you must first become GI-BMP certified.
2014 isn't that far away.  Take the time to attend a class this fall.  Don't wait to the last minute and have to scramble to find a training close to home.
Upcoming Training opportunities in the panhandle:
September 25, 2012 in Milton 850-623-3868 – $20 agenda
October 25, 2012 in Crestview 850-689-5850 – $20 agenda
November 9, 2012 in Cantonment   850-475-5230 $30
(To register call the numbers next to the event you would like to attend)
What is the GI-BMP program?
The GI-BMP workshop is designed to provide training in Best Management Practices (BMPs) for anyone working in the lawn, landscape, pest control, or municipal grounds areas.
The Best Management Practices are focused on reducing non-point source pollution resulting from fertilization or pesticide application.
At the end of this training you will be given a post-test to determine knowledge learned. If the post-test is successfully completed, you will be mailed a Green Industries BMP certificate of completion.
Some cities & counties require this certification before you can bid on jobs or have commercial customers.
If you also need pesticide CEUs, get your signed CEU attendance form before you leave the class.