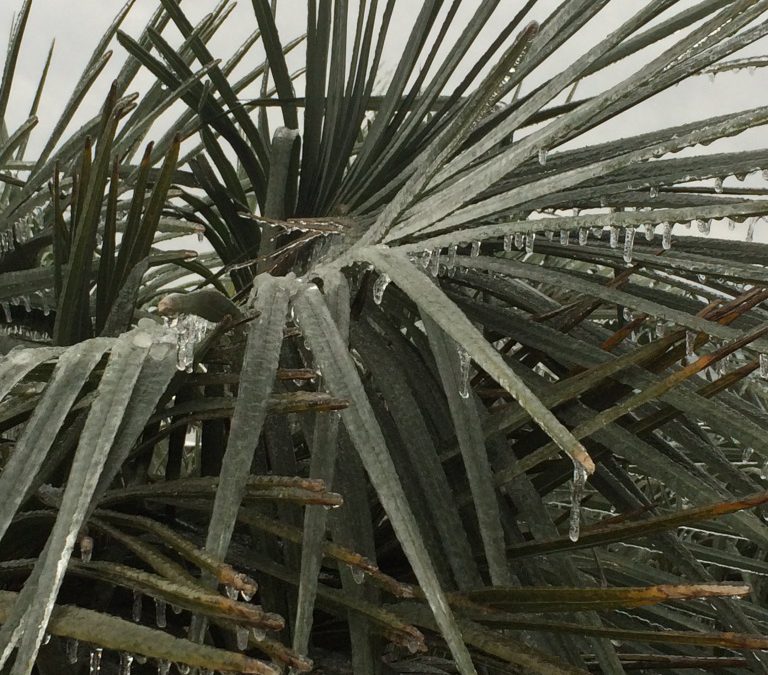 The freezing rain last week across the panhandle left icicles hanging from street signs, rooftops, trees, shrubs and palms. Many people now wonder if their palms will survive the assault of the hard freeze. The chance of survival depends on the following factors:
the most important consideration is the species of palm; a few of the most cold tolerant that are more readily available are pindo palm, mule palm, European fan palm, Chinese fan palm, needle palm, cabbage palm, and dwarf palmetto
whether the palm is in an area protected by other vegetation or buildings
proper fertilization with 8-2-12-4 has been followed
palms have been properly pruned, i.e. only dead fronds have been removed from the crown (overtrimming by removing green fronds is a stress to the palm)
The best approach is to leave the palm alone until all danger of frost or freeze is past. Avoid the temptation to remove any of the dead fronds; they will help insulate and protect the meristem, or bud, that will produce new shoots.
If the palm is not too tall, in the spring check to see if the spear leaf (the newest frond that usually stands straight up and has not opened) can be easily pulled out. If the spear leaf does not pull out, the likelihood that the palm has survived is good. Don't despair if the spear leaf does pull out as the meristem below it may still survive. The best strategy in that event is to remove the dead spear leaf and treat the bud area below the spear leaf with a copper fungicide to reduce the chance of infection of the bud. Be sure to use a copper fungicide and not a copper fertilizer, like copper sulfate.
Once spring comes and you find that the palms have survived, don't be alarmed if the first new frond is deformed or has dead tips. The fronds that follow will most likely be normal. The palm will be building its depleted food reserves with new leaves so do not remove any fronds that have any green on them whatsoever. All green tissue is making food for the palm and helping it to recover from the cold stress. Only remove fronds that have completely died and have no green tissue.
When temperatures warm and the palms are actively growing, apply a palm fertilizer with the formulation of 8-2-12-4 with micronutrients.
For more information please see the following University of Florida IFAS publications:
Fertilization of Field-grown and Landscape Palms in Florida