Everyone is interested in growing an easy plant that offers interest all throughout the warm season. Look no further than an old favorite, the purple hyacinth bean, Lablab purpurea.
An warm season annual vine that grows easily from seeds plants directly in the ground or started in small pots, purple hyacinth bean will quickly cover a trellis, fence, or other sturdy support that you provide. One of the features will be beautiful purple flowers that form on purple stems during the summer. Purple pods will form after the flowers fade and persist until a frost. Mature seeds can be collected and saved for planting the following spring. Seeds that fall to the ground are likely to sprout on their own when soils warm again the following year.
Even though purple hyacinth bean is an edible plant in many parts of the world, it is mostly considered an ornamental in our area. One of the reasons is that raw beans are poisonous and must be properly cooked before eaten. Because of the toxicity of the beans, it is best to plant in the ornamental garden rather than the edible garden.
Additional features of this easy vine are that it is low maintenance, requiring little fertilization and it attracts bees and butterflies. Install seeds or transplants in well drained soil in full sun and you are ensured a plant that will attract attention.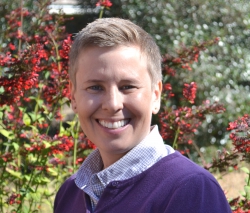 Latest posts by Beth Bolles
(see all)