Last spring, I attended a seminar at the UF/IFAS North Florida Research and Education Center in Quincy hosted by the Gardening Friends of the Big Bend (GFBB). Brie Arthur was the guest speaker and taught us about foodscaping, gardening with grains, and other traditionally agronomic crops that I had not considered for my landscape. Excited by her presentation I made some purchases at the GFBB plant sale including a small sandwich bag filled with sesame seed. Little did I know this would turn out to be one of my favorite plants last summer!
My first attempt at growing sesame was in a flower bed that received overspray from turf irrigation and about 6 hours of direct sunlight. The plants were small and although they flowered, were nothing to get excited about. Despite this lackluster first attempt, a few weeks later I threw some seed out alongside sunflower seeds in a different bed that receives full sun, no irrigation, and has sandy soil. I watered by hand for about two weeks, if we received no rain, to get the seeds to germinate and seedlings off to a decent start. The foliage that emerged in this bed looked so different from the first batch of sesame that I thought that I had mixed up my seeds. The foliage was wider and the plant was denser compared to my first attempt. I was completely stumped on what I was growing and started sending pictures to colleagues. Nobody knew what I was growing and apps just confused the issue further. Once it bloomed it resembled sesame, but I was still puzzled, so I took lots of photos and sent them to UF Extension Botanist Marc Frank. He confirmed that all these vastly different looking plants were indeed sesame! He advised that the long history of cultivation has led to extreme variability in the species which was certainly on display in my garden. This was a good reminder that the best way to identify plants is with their flowers.
For weeks, the sesame bloomed and was bombarded by bumble bees and other pollinators. To encourage more flowering, I continued to deadhead instead of letting it go to seed. We had summer thunderstorms that knocked it over and it just sent new stems skyward and kept on blooming. The sesame thrived in the harshest part of my garden until winter set in. Since I was growing it for pollinators I kept deadheading and never attempted to harvest seed.
Sesame is very drought tolerant and is sensitive to too much water or humidity, so plant it in a spot with well-drained soil, good air flow, and away from irrigation overspray for best results.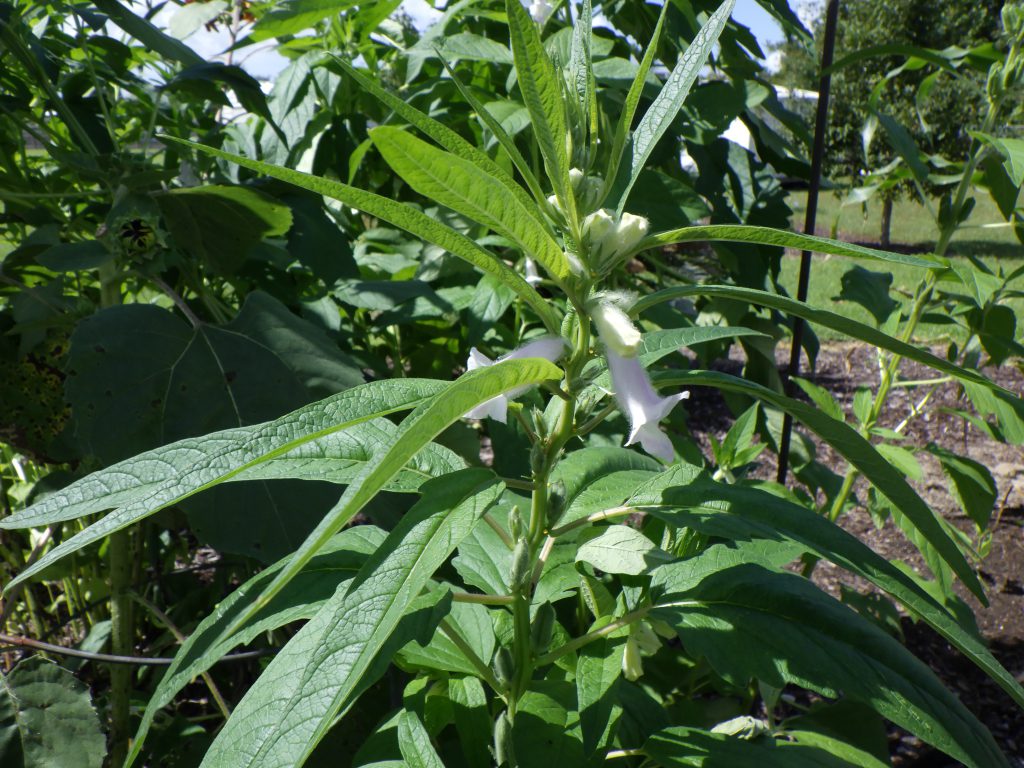 Latest posts by Julie McConnell
(see all)