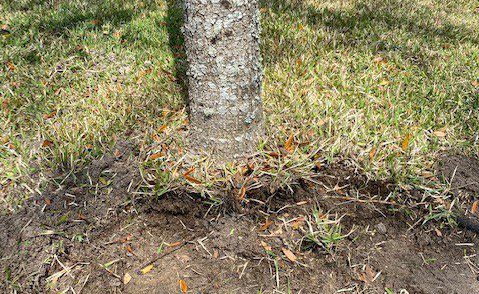 National Arbor Day is April 30 and although we celebrate Florida Arbor Day in January you may find yourself planting trees right now as Spring Fever sets in. It is a little easier on the tree and the gardener caring for it to plant in the winter, but you can plant year-round if you implement proper care to ensure good establishment.
The most common problems with trees we see at our help desk are related to incorrect installation and establishment. Number one is incorrect planting depth and number two is incorrect watering during establishment. This article will cover a few pitfalls to avoid so that whenever you plant your tree you will increase your likelihood of success!
Planting Depth
It is important that tree roots are not too deep so that they can adequately access both water and oxygen needed for survival and root generation. A good rule of thumb is to plant new trees with 10% of the root ball above the natural grade. Also check to be sure the root flare is exposed in trees that have this feature. This may require removing some soil from the top of the root ball as it came from the nursery.
A few common mistakes that lead to incorrect planting depth are listed below:
Leaving burlap and straps on the top of root balls of balled-and-burlap (B&B) trees
Piling soil on top of the root ball
Adding mulch to the root ball
Laying sod on top of root ball
Planting on a slope where soil can erode onto the root ball
Planting level with grade – trees settle and bark mixtures decompose which cause the tree to become deeper than originally planting
Creating a bed with added soil around trees (this is more common on mature trees and should be avoided)
When planting a tree, measure height and width of the corrected root ball. Dig the hole 90% as deep as the height and 125-150% as wide as the root ball. There is no need to add fertilizer or amendments to the hole, simply plant into the native soil and water appropriately.
Watering Until Tree is Established
The establishment period is the time it takes for a plant to create enough functional roots to adequately uptake water and nutrients needed to survive with little to no supplemental irrigation. In general, smaller/younger plants establish more quickly than larger ones so there are benefits to starting small when choosing trees.
Soil texture, rainfall, time of year, and tree species will factor into how long it takes for a tree to become established but there are a few guidelines to help you plan. Irrigate 2-5 gallons of water per inch trunk caliper during establishment period. Hint- your turfgrass irrigation output is not sufficient for optimum tree root growth. The chart below offers a range of irrigation frequency based on size of tree at installation and whether your goal is for fast growth or just enough to survive.
Size of Nursery Stock
Irrigation Schedule for Vigor
Irrigation Schedule for Survival
Less than 2" trunk caliper
Daily: 2 weeks

Every other day: 2 months

Weekly: Until established

Twice weekly for 2-3 months
2-4-inch trunk caliper
Daily: 1 month

Every other day: 3 months

Weekly: Until established

Twice weekly for 3-4 months
Gilman and Sadowski. "Planting and Establishing Trees." This document is ENG 1061, one of the Urban Forest Hurricane Recovery Program series of the School of Forest Resources and Conservation and the Environmental Horticulture Department, UF/IFAS Extension. Original publication date September 2007. Reviewed February https://edis.ifas.ufl.edu/pdffiles/EP/EP31400.pdf