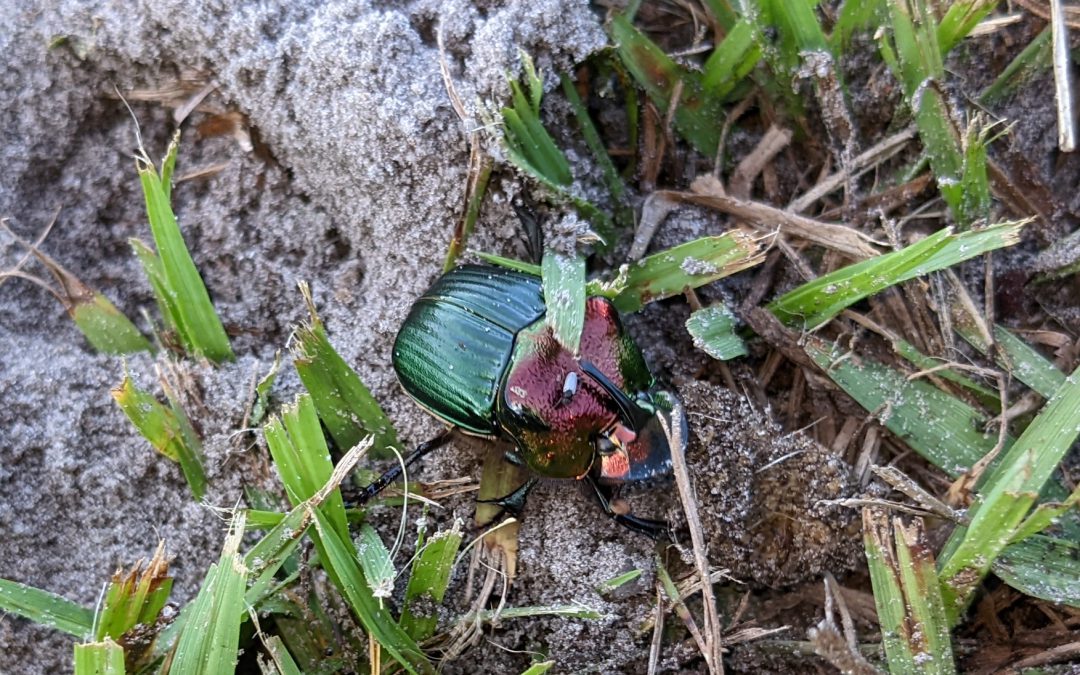 Most of us have had the displeasure of hurrying to our car, late for some appointment, climbing in, only to be assaulted by…sniff-sniff…the overpowering stench of doggy poo on a shoe. I can handle many of nature's nasty smells pretty well but this one nearly gags me. Imagine if this stuff never went away and kept accumulating on the ground. For any of us that have even one big dog, this would be a problem. Heaven help the dog lovers out there with two or more large canines. Well, this article will be paying homage to the unsung heroes of the manure-removal squad, who could give Mike Rowe a run for his money any day. You guessed it, dung beetles.

Dung beetles are most assuredly not the only critters who make their living by what we would consider disgusting means. Carrion beetles, fly maggots, vultures and many other creatures would qualify for an episode of "Dirty Jobs in the Animal Kingdom." However, the incredible beauty of many species of scarab beetles (the group to which dung beetles belong), resulted in high reverence in the ancient Egyptian culture. In more recent times, humans have realized the benefits provided by dung beetles and have intentionally introduced them in some places to manage dung accumulation in pasture systems. Their tunneling not only takes the dung below for a nutrient recycling function but also brings soil castings to the surface, which reduces soil compaction and improves aeration.

I have seen dung beetles many times, as they work in the yard to reduce my chances of "stepping in it." Until recently, I have not paid close attention to the incredible beauty of our local species. I had a great opportunity the other day to observe several beetles as they reduced a pile of dog mess to smaller messes and pulled them into their tunnels for long-term storage. The showy, metallic colors of red and green made it apparent why some refer to these creatures as "rainbow" scarabs. They were happy to ignore my presence as I took pictures only inches away from their frenzied activity to salvage their prized doggy treats.

The dung serves as food for both young and adults during periods when they remain underground. Females lay a single egg on what is referred to as a "brood ball" of dung and there may be several of these pre-packaged meals with an egg in the tunnel system made by the beetles. I was able to get some good photos of a beetle as it worked above ground moving dung balls away from the mother lode. It appears to be a species known as Phanaeus igneus, which occurs in our area along with a similar species named Phanaeus vindex. In Florida, Phanaeus igneus tends to occur in sandy soils, while P. vindex prefers clay-type soils. The finely sculptured elytra (hard wing covers) of P. igneus also distinguish it from P. vindex. Eggs hatch into a grub that matures below ground before emerging as a mature adult to continue the cycle.
The dung beetle's sense of smell is truly a wonder of nature. I have seen them flying in for a sniff test literally within minutes of deposition. Within the next day or two, the only evidence of your pooch's crime will be small mounds of soil where the excavations took place. I was so taken with these little jewels of the manure pile that you might understand why I think you should be just as amazed. So, the next time you find a fresh pile in the yard, drop down to your knees for a closer look and be prepared to be amazed. If the manure-removal squad has not appeared on the scene yet, give them a few minutes. It won't take very long. In the meantime, you can be thinking about how you will explain your behavior to your neighbors when they inquire.