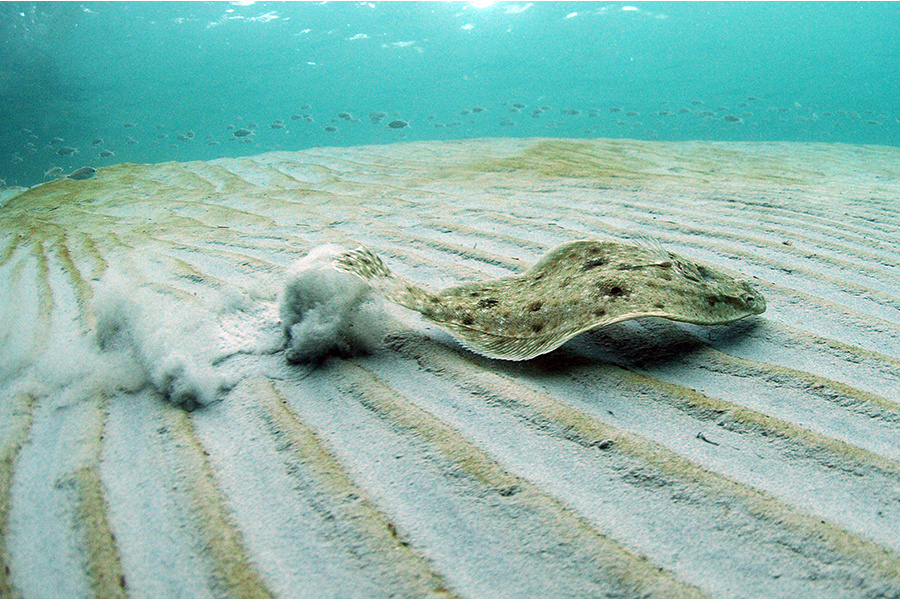 For many who grew up in the Pensacola area October meant flounder gigging season. This once popular past time involved going out at night along the shores of Santa Rosa Sound with flounder lights and gigs seeking a local favorite flounder. Everyone has their favorite recipe for this fish but in this article, we are going to focus on the fish – maybe something you did not know about it.
In the northern Gulf of Mexico, flounder are flatfish with the two eyes on the left side of the head. Locally, flatfish with eyes on the right side are called soles. We do have native soles, but all species are too small to be a food option. If you are not familiar with the "two eyes on one side of the head" idea, yes – flounder hatch from the egg looking like a normal fish, an eye on each side of the head. But earlier in development one eye slides across to the other side. This is a weird transformation and there are probably videos online, so you see how this happens – check them out. The reason for this transformation is to improve depth perception. Eyes close together give the animal binocular vision. Binocular vision does not have a wide viewing range, can basically see what is in front of it but not so much what is behind it, but it does give the animal good depth perception, it can tell how far away the prey actually is, and this is important when hunting.
Once the eyes have shifted to the left side of the head, flounders lose the pigments on the side without eyes, which becomes white, and the fish lays on its side – white side down. The cells on the "eye side" have chromatophores that allow the fish to change color to match the sand on the bottom. Another important feature of being a successful hunter. Most of know they will bury themselves in this sand as well. With their binocular vision, camouflaged body, and sharp teeth, they lie in wait to ambush predators.
You may also be surprised at how many different kinds of flounder are found in the northern Gulf of Mexico. There are 21 species listed, and they range in size from the small Spiny Flounder which can reach an average length of 3 inches, to the Southern Flounder which attains a length of 3 feet. The Gulf flounder and Southern flounder are two species that are popular seafood targets, but any decent sized flounder will do.
Flounder are found in a variety of habitats ranging from shallow seagrass beds nearshore, near structure just offshore, to artificial reefs and the base of bridges, to depths of 1200 feet in the Gulf of Mexico. Many species spend the warmer months in the estuaries moving offshore when the weather cools down to spawn. Hard northerners can trigger a mass migration and a great time for commercial and recreational fishermen alike.
It is flounder season.  Whether you prefer to catch your own or buy from the local seafood market I think will enjoy one of the variety of ways to prepare this fish.