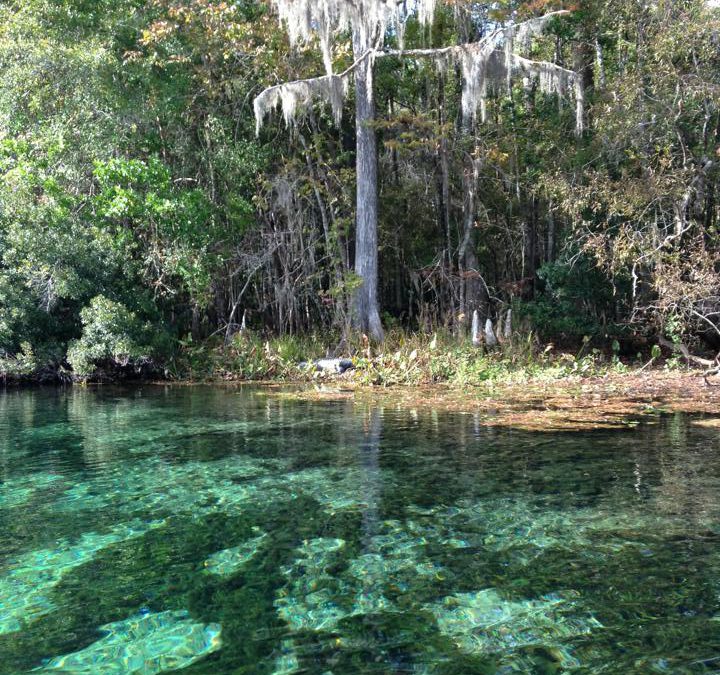 With more than 250 crystal clear springs in Northwest Florida it is just a short road trip to a pristine swimming hole! Springs and their associated flowing water bodies provide important habitat for wildlife and plants. Just as importantly, springs provide people with recreational activities and the opportunity to connect with the natural environment. While paddling your kayak, floating in your tube, or just wading in the cool water, think about the majesty of the springs. They are the visible part of the Florida Aquifer, the below ground source of most Florida's drinking water.
A spring is a natural opening in the Earth where water emerges from the aquifer to the soil surface. The groundwater is under pressure and flows upward to an opening referred to as a spring vent. Once on the surface, the water contributes to the flow of rivers or other waterbodies. Springs range in size from small seeps to massive pools. Each can be measured by their daily gallon output which is classified as a magnitude. First magnitude springs discharge more than 64.6 million gallons of water each day. Florida has over 30 first magnitude springs. Four of them can be found in the Panhandle – Wakulla Springs and the Gainer Springs Group of 3.
Wakulla Springs is located within Edward Ball Wakulla Springs State Park. The spring vent is located beneath a limestone ledge nearly 180 feet below the land surface. Archaeological evidence suggests that humans have utilized the area for nearly 15,000 years. Native Americans referred to the area as "wakulla" meaning "river of the crying bird". Wakulla was the home of the Limpkin, a rare wading bird with an odd call.
Over 1,000 years ago, Native Americans used another first magnitude spring, the Gainer Springs group that flow into the Econfina River. "Econfina", or "natural bridge" in the local native language, got its name from a limestone arch that crossed the creek at the mouth of the spring. General Andrew Jackson and his Army reportedly used the natural bridge on their way west exploring North America. In 1821, one of Jackson's surveyors, William Gainer, returned to the area and established a homestead. Hence, the naming of the waters as Gainer Springs.
Three major springs flow at 124.6 million gallons of water per day from Gainer Springs Group, some of which is bottled by Culligan Water today. Most of the springs along the Econfina maintain a temperature of 70-71°F year-round. If you are in search of something cooler, you may want to try Ponce de Leon Springs or Morrison Springs which flows between 6.46 and 64.6 million gallons a day. They both stay around 67.8°F.  Springs are very cool, clear water with such an importance to all living thing; needing appreciation and protection.