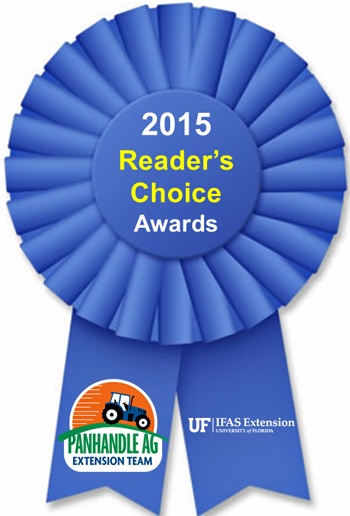 2015 was an even more successful year for the Panhandle Ag e-News electronic newsletter project.  There were a total of 258 articles contributed by 37 County Agents and State Specialist authors in 2015.  This year the website registered over 108,044 total web page views as compared to 68,571 in 2014 (56% increase). Word is spreading and more and more farmers and ranchers are taking advantage of this service.
There were some really interesting articles added to the collection this year.  Since the Panhandle Ag e-news project began in 2013, a total of 915 articles have been published that are searchable by category, keyword, or author. The following were the Top 50 most read articles written in 2015 by UF/IFAS State Specialists and County Agents.
Top 50 Most Popular Articles published in 2015
1st Place
The 2015 Reader's Choice Award goes to an article written by Ramon Leon, WFREC Weed Specialist.  His article on doveweed control in turfgrasses was read  3,203 times in 2015.
2nd Place
The runner up this year was an article about the impact of estrus synchronization and artificial insemination on a cattle herd, written by Cliff lamb, NFREC Beef Reproduction Specialist that was read 1,466 times.
3rd Place
The third most read article was an article on broomsedge prevention in pastures, written by Mark Mauldin, Washington County Extension, that had 1,344 page views.
Honorable Mention
The 4th most popular article describes a cattle handling pen design that has become very popular around the country,  was written by Doug Mayo, Jackson County Extension and had 1,143 page views.
The other most read articles, listed in order of popularity are:
These articles were ranked based on the number of times readers opened the link to each page in 2015.  The editors and authors would love to hear your feedback on the articles that were most helpful to you.  Use the comment box below to share what articles, or types of articles you got the most benefit from this year.
Latest posts by Doug Mayo
(see all)