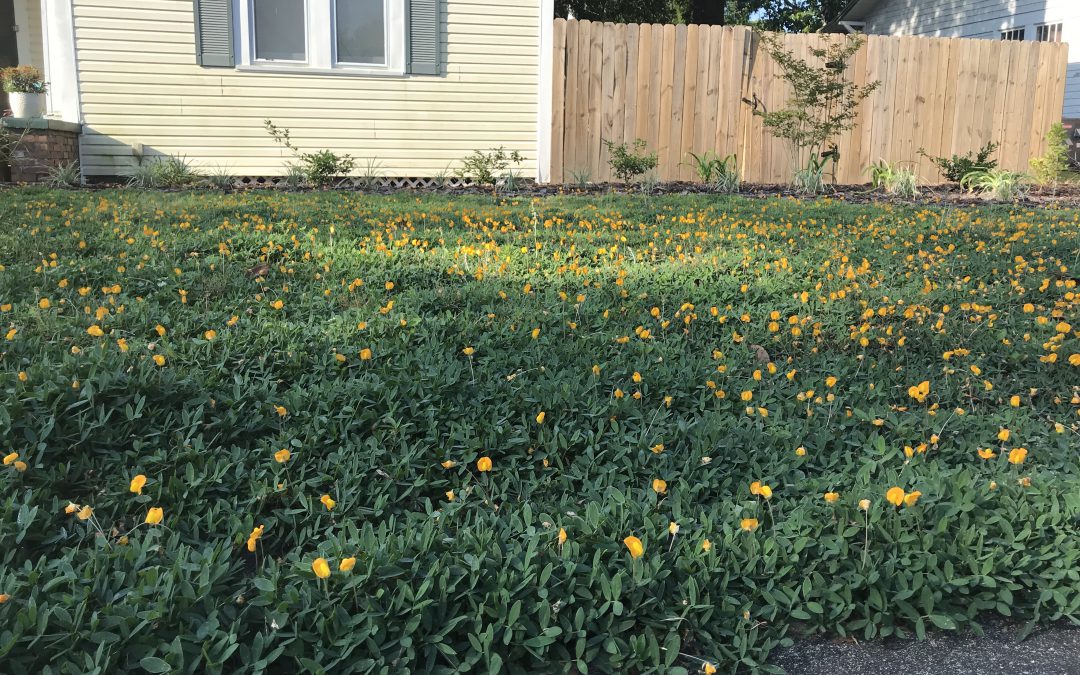 What began as my journey toward a turf-less lawn in September of 2017 is finally beginning to come together!  In the fall of 2017, I installed about 120 one-gallon-sized 'Needlepoint' Perennial Peanut (Arachis glabrata) plants, purchased from Sunset Specialty Groundcovers in Live Oak, FL, on roughly 20" centers in my front lawn, an oddly shaped (650 ft2) patch of ground that had been previously filled with spotty centipedegrass and a healthy and diverse weed population.  18 months later, the peanut has almost completely filled in, shaded out all the weeds, and blooms nonstop!
Looking back, I definitely learned a few lessons the hard way.  First, you should mulch bare ground in between plants at time of installation.  Because there are few herbicides labelled for residential use on this crop and I didn't want to experiment on my new "lawn", I spent a lot of time on my hands and knees (much to the amusement of my neighbors and folks driving by) pulling weeds in the first two years that could have been prevented with mulch.  Second, have a plan for keeping the perennial peanut in bounds once it has filled in the area it was supposed to and begins to travel into adjacent landscaped beds!  The area my peanut inhabits is surrounded on two sides by inescapable concrete.  It was on the other two sides, however, that I have had to improvise after they came under siege (literally under, because perennial peanut spreads by underground rhizomes).  Installing some sort of edge blocker at planting and vigilance with routine mechanical edging is a must to keep it in bounds!  Third, I recommend that you have a counter-argument prepared when the peanut goes dormant in the winter and your wife asks why the yard is bare dirt!
Overall, though there are a couple of things I would have done differently, I'm extremely pleased with my lawn of perennial peanut.  It is absolutely stunning in the warm months, incredibly low maintenance, and unique!  Plant some today!
As always, if you have any questions about perennial peanut or any other plant/crop, contact your local UF/IFAS Extension office.