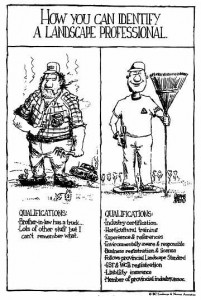 On June 18, 2009, Florida Governor Charlie Crist signed into law SB 494 requiring all commercial fertilizer applicators have a license by January 1, 2014. Passing the Green Industries Best Management Practices (GI-BMP) training is mandatory to obtain that license.  University of Florida/IFAS Extension provides training and testing programs in urban landscape management practices and issues certificates demonstrating satisfactory completion of the training.  These classes are available in English or Spanish.
After receiving a certificate of completion, a person must pay $25 and apply to receive a limited certification for urban landscape commercial fertilizer application.  A person possessing such a certification is not subject to additional local testing.  The certification expires 4 years after the date of issuance.
Using UF/IFAS-recommended application rates and timing of pesticides, fertilizer and irrigation can help prevent nonpoint source pollution (water pollution that is associated with everyday human activities and driven by rainfall, runoff and leaching) from urban landscapes.  By choosing plants appropriate for the site and maintaining them with correct cultural practices (irrigation, fertilization, mowing and pruning), one can significantly reduce the amount of water a landscape needs to thrive.
The GI-BMP class teaches landscape workers how to implement these Best Management Practices into their daily work.  This is an opportunity for Green Industry workers to complete this requirement and market their skills to clientele.  Trainings are available monthly across the Panhandle as well as on-line.  Visit the website for more information : FYN-GI-BMP WEBSITE. UF / IFAS Washington County Extension will be offering a GI-BMP class July 23rd. Follow this link for registration information.
Latest posts by Sheila Dunning
(see all)