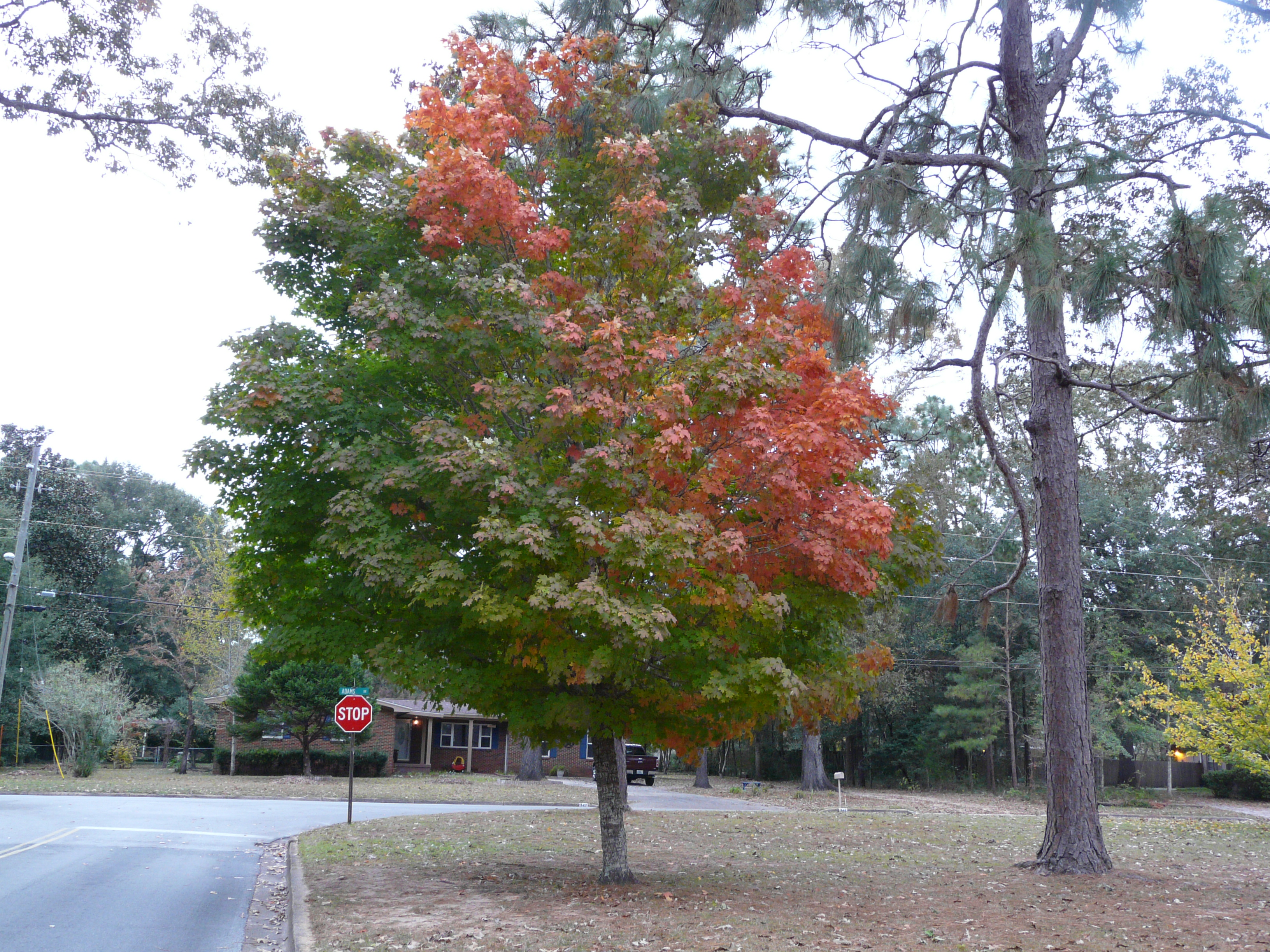 Florida's natural areas—a great source of pride and enjoyment to its citizens—provide recreation, protect biodiversity and fresh water supplies, buffer the harmful effects of storms, and significantly contribute to the economic well-being of the state. Unfortunately, many of these natural areas can be adversely affected by invasive plant species. An estimated 25,000 plant species have been brought into Florida for use as agricultural crops or landscape plants. While only a small number of these have become invasive, Chinese tallow (Triadica sebifera) is one of them.
As the trees begin to turn various shades of red, many people begin to inquire about the trees. While their autumn coloration is one of the reasons they were introduced to the United States, it took years to realize what a menace the trees become. Triadica sebifera, the Chinese tallow is locally referred to as popcorn tree due to the appearance of the developing seed heads, white three-chambers seeds covered in a fatty wax. It was introduced to Charleston, South Carolina in the late 1700s for oil production and use in making candles. However, the seeds are also tasty snacks for birds and can float long distances in the water, enabling it to spread to every coastal state from North Carolina to Texas, and inland to Arkansas. In Florida it occurs as far south as Tampa, displacing other native plant species in those habitats. Therefore, Chinese tallow was listed as a noxious weed by the Florida Department of Agriculture and Consumer Services Noxious Weed List (5b-57.007 FAC) in 1998, which means that possession with the intent to sell, transport, or plant is illegal in the state of Florida.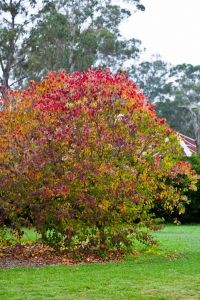 Individuals can help mitigate the problem of Chinese tallow trees in Florida's natural areas by removing them from their property. Mature trees should be felled with a chain saw by the property owner or a professional tree service. The final cut should be made as close to the ground as possible and as level as possible to facilitate application of an herbicide to prevent sprouting. Stumps that are not treated with an herbicide will sprout to form multiple-trunked trees. If it is not objectionable for dead trees to be left standing, certain herbicides can be applied directly to the bark at the base of the tree (basal bark application).
Herbicides that contain the active ingredient triclopyr amine (e.g., Brush-B-Gon, Garlon 3A) can be applied to cut stumps to prevent re-sprouting. The herbicide should be applied as soon as possible after felling the tree and concentrated on the thin layer of living tissue (cambium) that is just inside the bark. Herbicides with the active ingredient triclopyr ester can be used for basal bark applications. Only certain triclopyr amine products may be applied to trees that are growing in standing water. If trees are cut at a time when seeds are attached, make sure that the material is disposed of in such a way the seeds will not be dispersed to new areas where they can germinate and produce new trees.
Space in a landscape left after removal of Chinese tallow can be used to plant a new native or noninvasive tree for shade, or some other landscape purpose. Although Florida is not known for the brilliant fall color enjoyed by other northern and western states, there are a number of trees that provide some fall color for our North Florida landscapes.  Red maple, Acer rubrum, provides brilliant red, orange and sometimes yellow leaves. The native Florida maple, Acer floridum, displays a combination of bright yellow and orange color during fall.  And there are many Trident and Japanese maples that provide striking fall color.  Another excellent native tree is Blackgum, Nyssa sylvatica. This tree is a little slow in its growth rate but can eventually grow to seventy-five feet in height. It provides the earliest show of red to deep purple fall foliage. Others include Persimmon, Diospyros virginiana, Sumac, Rhus spp. and Sweetgum, Liquidambar styraciflua.  In cultivated trees that pose no threat to native ecosystems, Crape myrtle, Lagerstroemia spp. offers varying degrees of orange, red and yellow in its leaves before they fall. There are many cultivars – some that grow several feet to others that reach nearly thirty feet in height. Also, Chinese pistache, Pistacia chinensis, can deliver a brilliant orange display.
There are a number of dependable oaks for fall color, too. Shumard, Southern Red, and Turkey are a few to consider. These oaks have dark green deeply lobed leaves during summer turning vivid red to orange in fall. Turkey oak holds onto its leaves all winter as they turn to brown and are pushed off by new spring growth. Our native Yellow poplar, Liriodendron tulipifera, and hickories, Carya spp., provide bright yellow fall foliage. And it's difficult to find a more crisp yellow than fallen Ginkgo, Ginkgo biloba, leaves. These trees represent just a few choices for fall color.  Including one or several of these trees in your landscape, rather than allowing the popcorn trees to grow, will enhance the season while protecting the ecosystem from invasive plant pests.
For more information on Chinese tallow tree, removal techniques and native alternative trees go to: http://edis.ifas.ufl.edu/ag148.