Citrus is not only a vital part of our economy in Florida but it's also a major component in our landscapes. Having grown up in the major grapefruit producing region of Florida, the citrus industry is near to my heart. So for me, it is very exciting to see all of the interest in the citrus industry in North Florida despite the devastation the industry is facing in South Florida. With many folks spending more time outdoors and working in the landscape, I wanted to share some ways homeowners can enjoy citrus in their landscape all while protecting the future of the citrus industry in North Florida!
First thing's first…identification!
It's important to be aware of some of the major pests and diseases affecting citrus. Fortunately for us in the Panhandle, many of the major pests and diseases troubling citrus to the south haven't become quite as widespread in our area, and with your help we can keep it that way! Regularly scouting the citrus in your landscape and detecting any major pests or diseases early will be very important to prevent it from spreading.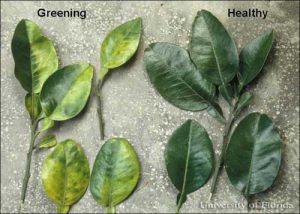 The first major disease all Floridians should be aware of is citrus greening. Citrus greening or huanglongbing (HLB) is the major disease affecting the citrus industry worldwide. It is a bacterial disease caused by the bacteria Candidatus Liberibacter. The bacterium is spread from tree to tree by a tiny insect known as the Asian citrus psyllid. Psyllids spread the disease by feeding on infected trees and moving on to non-infected trees. Once the tree is infected, there's little hope for survival as there is no cure for citrus greening.
Citrus greening can be difficult to diagnose as it can be easily confused with nutrient deficiency. Symptoms of citrus greening include yellowing of the veins and a blotchy mottle pattern. Nutrient deficiencies tend to have a symmetrical pattern on each side of the leaf vein whereas citrus greening is asymmetrical. Overall, a tree infected with citrus greening will appear unhealthy with discolored leaves, a thin canopy, and reduced fruit production.
Another disease to be on the lookout for is citrus canker. Citrus is also caused by a bacterial pathogen but is spread primarily though wind, rain and human movement. Citrus canker is highly contagious and can spread very rapidly. Transporting infected plant material from an area where canker is present is the primary means of spreading the pathogen.
Purchase from a certified nursery!
One of the absolute most important things you can do if you are planting citrus is to purchase your trees from a certified citrus nursery! A certified nursery has been inspected by the state to confirm that the nursery is producing clean, disease free trees. Citrus trees grown in a certified nursery will have a tag with the name of the nursery, registration number, the tree variety, and rootstock.
When buying a tree from a secondary retailer, you will want to be sure to examine the tree for any signs and symptoms of pests and diseases. A healthy tree will have dark green leaves, a smooth trunk and show no signs of wilt.
Other ways to protect citrus:
Learn how to properly care for citrus trees. Proper watering an fertilization will make them less susceptible to pest and disease.
Report any suspected pest and diseases to the Florida Department of Agriculture and Consumer Services (FDACS) Division of Plant Industry by calling 1-888-397-1517
Don't bring back plants or fruit into Florida! They could introduce new pests and diseases.
Keeping the Panhandle free of citrus greening and citrus canker will play a major role in the success of the citrus industry in North Florida. For assistance with pest and disease identification or for more information, contact your local Extension agent.
Latest posts by Danielle S. Williams
(see all)