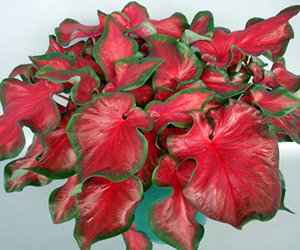 The arrow-shaped leaves of the caladium can add low-maintenance color to the landscape for months.  Most effective when massed together in the landscape, caladiums are available in many unique patterns and vibrant colors.  A multitude of leaves emerge from a single tuber in various shades of red, white and pink.  There are those with spots, ones with bright veins and others with dark green edges.  Imagine a pattern, there is probably a caladium to match.  Originally discovered in the Amazon River basin, these fast-growing plants can bring life to a shady spot or add drama to the edge of a sunny bed.
Caladium plants usually grow 1-2.5 feet high with leaves that measure 6-12 inches in length.  Most caladiums thrive in partial shade.  But, many new cultivars have been bred to grow in direct sunlight for many hours of the day.  Plant breeders, including researchers at the University of Florida, release new cultivars each year.  Many of them are patented.
Cultivars are broadly separated into two main categories: fancy and lance-leafed, also referred to as strap-leafed.  Fancy-leafed cultivars have large heart-shaped leaves.  Lance-leafed cultivars have narrow, elongated leaves.  So, when choosing a caladium, there are many decisions to make: sun or shade; short, medium or tall; pattern or solid color; and leaf shape.
Some the traditional fancy-leafed caladium cultivars include: 'Aaron', a medium white with a large dark green edge; 'Carolyn Whorton', a medium pink blotched leaf; and 'Postman Joyner', a medium red with large veins extending into the dark green edge.  These are suitable for more sunlight.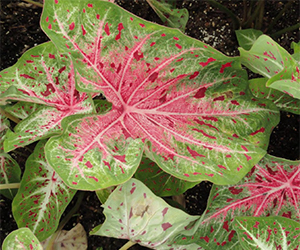 On the extreme other side are the shade-loving speckled strap-leafed cultivars like 'Miss Muffet', 'Gingerland' and 'Sea Foam Pink', a newer UF developed cultivar.  For more information on the caladium cultivars developed at UF go to: https://gardeningsolutions.ifas.ufl.edu/plants/ornamentals/caladium-cultivars.html.  Keep an eye on children and pets when they are around the caladium plants.  The leaves are toxic if ingested.
Plant caladium tubers in spring once the soil is at least 60-70 degrees F.  Place them "eye side" up.  That is the side that is all lumpy.  If you want shorter, compact plants that don't show as much stem, "de-eye" and dry the tubers for a day before planting them.  That means scoop out the peak of the mound.  This will force the remaining buds to sprout around it.  Place the tubers in the ground 2 inches deep and 8-12 inches apart.  Once they have sprouted, apply a light fertilizing once or twice over the summer.  Choose a fertilizer that contains a slow-release nitrogen and is low in phosphorus.  Excess nutrients will force the leaves to become greener, losing all the unique colors and patterns.
At the end of the season the leaves will decline and go dormant naturally.  The tubers can be left in the ground, but if they experience a cold and/or wet winter, expect losses.  Digging them will ensure that there will be tubers for next year.  The tubers should be dusted with a sulfur fungicide prior to being stored in dry peat moss or vermiculite at temperatures between 50 and 60 degrees F.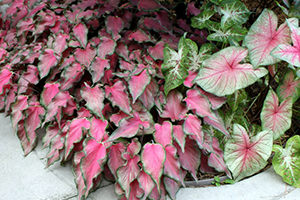 If you want to learn more about caladiums and have an opportunity to purchase the Proven Winner new introductions from 2021 and 2022, join me at the Destin Garden Club meeting on May 10, 2022.  The program will be held at the Resurrection Catholic Church, 259 Miramar Beach Dr. Miramar Beach, FL beginning at 9 a.m.
Latest posts by Sheila Dunning
(see all)