Florida is rapidly urbanizing with 1,000 people a day moving into the state.  Many cities in the panhandle have experienced accelerated growth rates over the past ten years. Crestview is one of the seven areas in the state with a population growth of 19% or greater, and the only one located in the panhandle.  The 2030 predictions for Florida are another 6 million people, with counties containing military personnel increasing the quickest.
All of these people need water to meet their daily living needs.  The average person in the United States uses 101.5 gallons of water per day.  Residential water use comprises 61% of the public supply category.  This category is responsible for the largest single portion (43%) of groundwater withdrawal in Florida.  The Floridan aquifer spans an area of about 100,000 square miles in the southeastern United States, including all of Florida, as well as, portions of three other states.  At the current statewide population growth rate, Florida is facing a 300 million gallon per day shortfall of future water needs, possibly as early as 2030.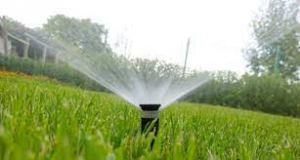 Turfgrass is a key landscape component and often the most commonly used single type of plant in the residential landscape. However, on a hot, sunny day in midsummer, the average lawn uses 125 gallons of water per 1,000 square feet.  Although Florida has a humid climate where the precipitation rate, on average, is greater than the evapotranspiration rate, the low water-holding capacity of the soil makes irrigation necessary for the high quality landscapes desired by homeowners.  But, watering the yard requires an entire household to skip a shower, not wash anything and avoid cleaning.  Or, we need to find ways to use a different source of water for irrigation and conserve the potable water for the people.
While the use of reclaimed water for landscape plants has become a standard in many parts of Florida, it has limited availability in the panhandle.  However, there are many ways to reduce and conserve potable water use for those with in-ground irrigation systems.  First, make sure you have a functional rain shut-off device.  By design it will prevent the system from running when it has recently rained.  On average, the panhandle has received rain about every 4 days this year.  Besides, Florida law requires a rain shut-off device for all irrigation systems, new or old.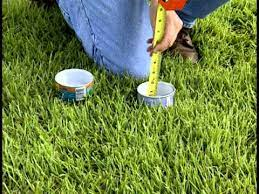 Then, calibrate each zone to determine the length of time required to deliver ½ inch of water.  This can be determined by placing 10 or more, short, straight-sided containers throughout the irrigation zone.  Run the system and look at each container, measuring the depth with a ruler.  Adjust the run time so the system only delivers ½ inch.  Now set the clock to run 2-3 times a week for that length of time.  It's that simple.  And the water savings is significant. For these and many other irrigation tips, visit askIFAS at https://edis.ifas.ufl.edu/.
Latest posts by Sheila Dunning
(see all)