Pecans are a flavorful and nutritious nut and an essential component of a southerner's diet. The trees also provide nice shade and intense fall color to landscapes throughout the south. However, not all pecan tree varieties are suited for the Florida panhandle. There are a number of things you should consider before planting a pecan tree.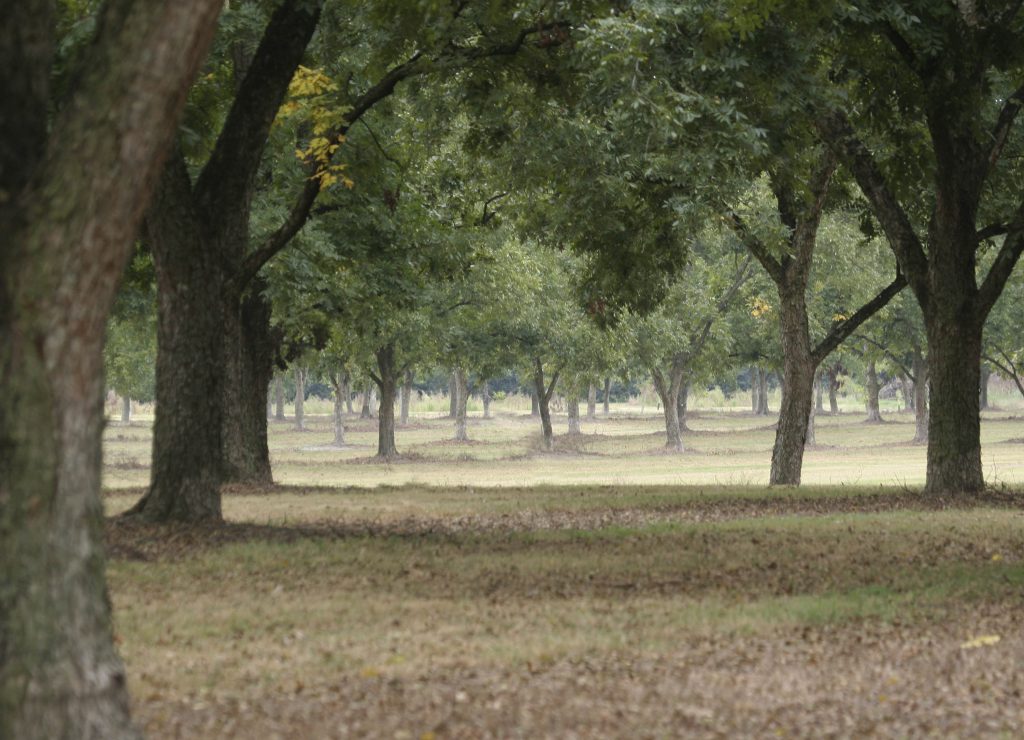 Site Selection – Pecan trees are native to the river valleys of North America. They perform best in deep, fertile, well-drained soils. The key is that the soil is well-drained. Pecan trees will not do well in soils that hold a lot of water and do not drain quickly. Pecan trees also need space to grow. Trees should be planted at least sixty feet apart and at least sixty feet from other large trees and structures. This will allow adequate light for the trees produce a good crop.
Disease Resistance – Pecan scab is the most detrimental pecan disease in the southeast. Trees advertised as scab resistant in the past may have become more susceptible over time. A few varieties that seem to be available at tree farms and have maintained their scab resistance are 'Caddo', 'Elliot', 'Lakota', and 'Gafford'. Newer varieties that currently have good scab resistance are 'Avalon', 'Huffman', and 'Whiddon'. However, these newer varieties may be more difficult to find at nurseries and farm stores.
Pollination – Pecan trees produce both female and male flowers on the same tree. Trees are split into two pollination groups. Type I pollinators produce mature pollen before their female flowers are receptive and Type II trees produce receptive female flowers before their pollen is mature. Timing of flower maturity may change with tree age, but it is a good practice to plant a Type I tree along with a Type II tree to ensure a good crop in each tree. A pollination compatibility chart can be found at UGA Pecan Compatibility Chart.
Planting – Commercially, pecan trees are most commonly planted as bare-root transplants, but container-grown trees can also be used. Bare-root trees are usually cheaper and more readily available. They should be planted while dormant, between December and March and should be planted the day they are delivered. If the root system looks dry, soak the trees in water for a few hours before planting. Container-grown trees can be planted any time of the year, but they have the best chance of survival if planted during dormancy. Trees should be planted at the depth they stood at the nursery or the depth they were planted in a container. Planting holes should be at least 18 inches wide and only native soil should be used to fill in the hole. The main causes of death in young trees are planting too deep and inadequate moisture during the first two years following planting.
Pecan trees provide focal points in the landscape and a tasty treat for the belly. For more information on growing pecans and the benefits of pecans please see these Pecan Publications from the University of Georgia.
Latest posts by Matt Lollar
(see all)