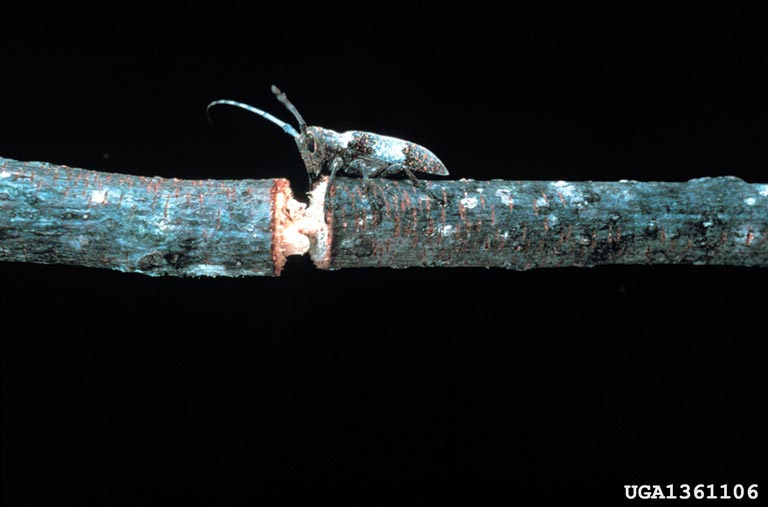 Not all fall color is a good thing. This statement is especially true when it comes to twig pruners and twig girdlers. These two species of longhorned beetles can certainly disappoint your grand expectations of a beautiful array of fall color. Both species cause the tips of twigs to fall to the ground in late summer, sometimes leaving your trees in an undesirable form.
Twig Pruners
The twig pruner (Elaphidionoides villosus or Anelaphus villosus) is a small longhorned beetle that attacks numerous species of hardwoods. It is usually classified as a secondary pest of declining trees and shrubs. Female twig pruners lay their eggs in late spring at the leaf axils. When the eggs hatch, the grubs bore into twigs and continue to bore as they mature. The larvae then chew concentric rings just underneath the bark. The infested twigs and branches eventually drop to the ground with the larvae inside. The larvae pupate inside the fallen twig throughout the winter.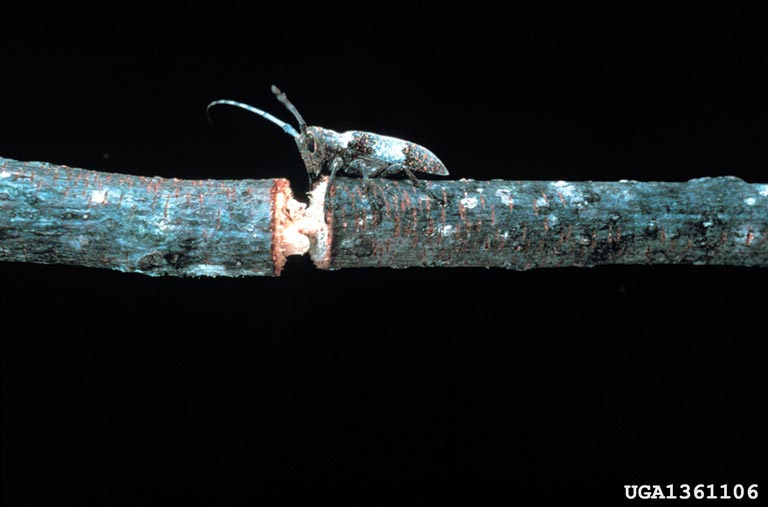 Twig Girdlers
The twig girdler (Oncideres cingulata) is a small longhorned beetle that invades many species of hardwoods. Female twig girdlers lay their eggs in late summer in small twigs (about 3/8 inch diameter) that are covered with a thin layer of bark. The female chews a concentric ring around the outside of the twig, causing the end of the twig to die. The female chews a small notch in the dead twig and lays her eggs. After the eggs hatch, the larvae feed on the dead twigs and develop into adults before chewing their way out. The adults fly away to new host trees.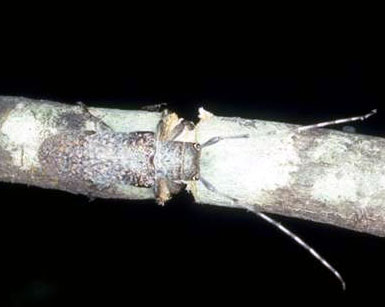 Management and Control
It's important to plant the right plant in the right place. Healthy trees and shrubs are the best defense against insect pests. Twig pruners and twig girdlers live in dying or dead twigs and branches. If you have trees that have suffered damage from these pests you will notice an abundance of fallen twig ends around the base of your trees. Rake and remove fallen twigs from around the trees and destroy or dispose them. This will help reduce pruner and girdler numbers in subsequent years.