It is the time of year when we get reminded that we have just entered Hurricane season here on the Gulf Coast. Ideally you will have already done your tree maintenance and health checks around your home, but if you have not you can still get a tree care professional out to look at your trees. Maintaining your trees is an important part of storm preparedness. Keeping trees trimmed and in good health ensures that tree risks are minimized during the storm season. Even with proper pruning and maintenance some trees pose a risk due to location, poor structure, or disease. Having a professional assess your tree/trees and come up with a maintenance plan can help you avoid costly damage and keep your tree in good condition.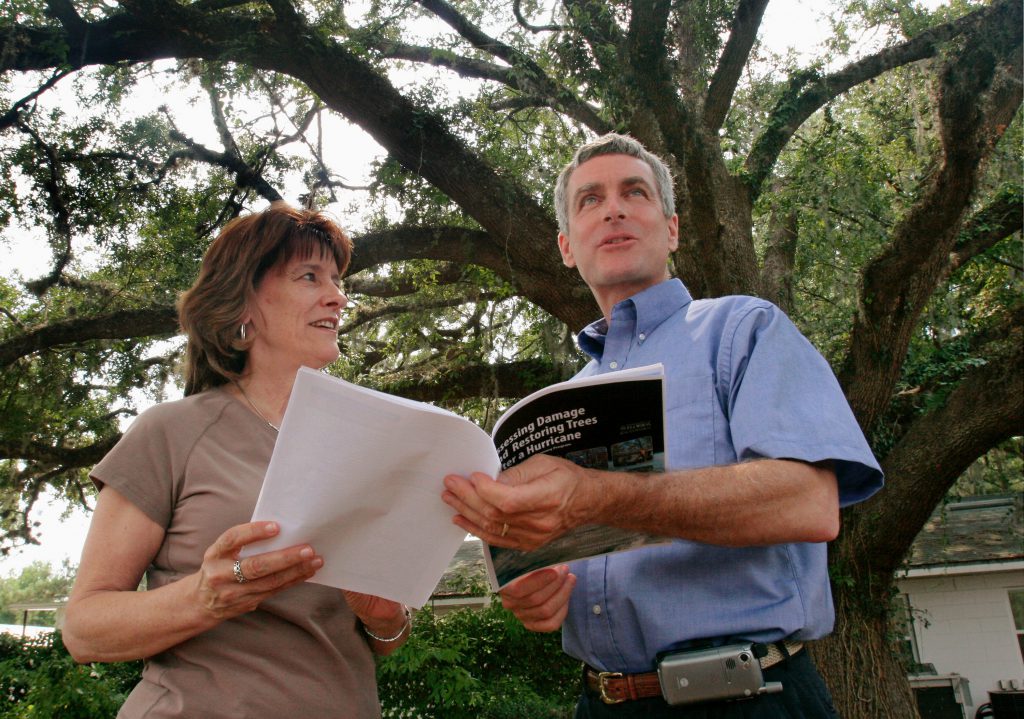 Trees are a major part of our landscape on the Gulf Coast, especially in our urban areas. They provide so many benefits to the landscape and are often the centerpiece of yards and parks in our urban areas. Without trees we lose the shade and cooling benefits a tree provides, have less habitat for birds and other wildlife, and loose aesthetic values that come with a majestic tree. Trees take a long time to grow and develop as well, so a large well-developed tree is not easily replaced. This naturally leads to a question many people find themselves facing. How do I preserve trees I want but minimize risk to my home and structures? The answer to this question is to assess the condition of the tree, the risk it may pose, and decide on the proper tree maintenance accordingly.
Lots of things go into determining what to do with a tree. The first thing to consider is location of the tree and its limbs. If the tree and its limbs are close to your home, you must consider how to maintain the tree in such a way that risks are minimized. If the tree has structural and/or health problems, you must factor in how these conditions affect the stability and health of a tree. The tree species also determines how it will need to be maintained as well as how stable it is in a wind event. All of these factors play into how to maintain the trees on your landscape, or if the tree poses an unacceptable risk, when to remove trees that may be in decline or present a hazard.
The best course of action is to consult with a tree care professional and develop a tree maintenance plan. Make sure you select a tree care professional with good qualifications, background, and insurance. The top professional credential in tree care is the International Society of Arboriculture's (ISA) Certified Arborist. You can search for a Certified Arborist in your area on the ISA Website, Find an Arborist (treesaregood.org). For trees that you are concerned about from a risk perspective consider getting a Tree Risk Assessment. Certain Certified Arborists carry a Tree Risk Assessment Qualification which is a specialty qualification specifically to assess the risk a tree poses. By having your trees examined by an arborist you can make an informed decision on maintaining your landscape trees. For trees that are in good health and are species that do well in high winds, proper maintenance and pruning will assist in keeping the tree in good condition. For trees with health or structural problems or that are species that do poorly in high winds, removal may be needed.
There is no one size fits all solution to tree maintenance and tree risk, but with proper assessment and tree care you can be confident you are making the correct decision. Putting off tree care and assessment is when problems occur. Consulting with an arborist and developing a tree care plan with clear timelines and practices is your best option to maintain your trees and avoid issues with high-risk trees. As painful as it may be, for high-risk trees removal and replacement may be the best option. By consulting with a tree care professional, such as an arborist, you can know your tree conditions and the associated risks and options. With this information in hand, you can make well informed decisions that match your tree health and risk management goals.
References and Further Reading:
UF/IFAS Gardening Solutions Webpage: Preparing Trees For Hurricanes Link: Preparing Trees for Hurricanes – Gardening Solutions – University of Florida, Institute of Food and Agricultural Sciences (ufl.edu)
For Information on Recognizing Tree Health and Risk Issues:
McLean, D.C., A.K. Koeser, R.J. Northrop, and G. Hasing Is My Tree Safe? Recognizing Conditions That Increase The Likelihood of Tree Failure Publication# ENH1246 Gainesville: University of Florida Institute of Food and Agricultural Sciences ENH1246/EP507: Is my tree safe? Recognizing Conditions that Increase the Likelihood of Tree Failure (ufl.edu)
For information on tree species and their stability in wind:
Dureya, M.L. and E. Kampf Selecting Coastal Plain Species for Wind Resistance PUBLICATION #FOR119 Gainesville: University of Florida Institute of Food and Agricultural Sciences FOR119/FR174: Selecting Coastal Plain Species for Wind Resistance (ufl.edu)
Latest posts by Ian Stone
(see all)