Recently, I spent some time with my uncle at his home in Perry, Florida. Perry specifically and Taylor County as a whole were one of the hardest-hit areas from Hurricane Idalia. My uncle said that most of the powerline poles had been replaced in his and surrounding neighborhoods as a result of this storm. Some were still being replaced when I was there. Every home in the area had large amounts of tree debris cut and piled up along the streets for pickup. Most every pile had the remains of large pine trunks intermingled in the debris.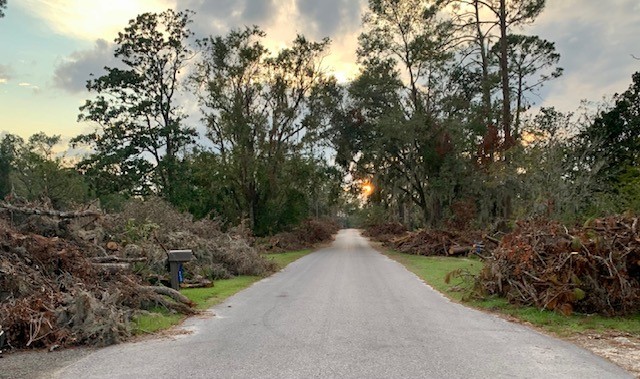 The only damage to my uncle's home was from a neighbor's large pine tree. The top of that tree was blown through the air and slammed into his roof, puncturing the roof and leaving a large hole through the bottom of the garage ceiling. In addition to the direct wind damage and resulting downed trees, with a storm such as Idalia, there will be much follow up removal and pruning of leaning, partly uprooted, and damaged trees.
Trees are an important part of our ecosystem, economy, landscape and heritage here in North Florida. As a matter of fact, Taylor County began a Pine Tree Festival in 1955 to help educate the public about the timber industry in that area. Now known as the Florida Forest Festival, the goal of the festival is to promote the benefits of our state's forests as well as to celebrate people who protect and work in them. The 68th Annual Florida Forest Festival is scheduled to take place in Perry on October 28, 2023. Here is a link with more information on the festival: https://floridaforestfestival.org.
It is important to not wait until a storm event such as Idalia to inspect and manage trees on your property. An ounce of prevention is worth a pound of cure when preventing tree damage. Even without a major storm, we have relatively high winds associated with our frequent thunderstorms here in Florida. Compared to many parts of the United States, we live in a fairly high-risk area for storm damage with lots of large trees.
Professional help sometimes is your best option when dealing with trees. Property damage could be reduced by having a professional arborist evaluate unhealthy, injured or questionable trees to assess risk and treat problems.
Hiring a certified arborist can be a worthwhile investment. To find a certified arborist in your area, contact the International Society of Arboriculture at 888-472-8733 or at www.isa-arbor.com. In addition, here is a UF/IFAS Extension link with a wealth of information related to trees and hurricanes: https://hort.ifas.ufl.edu/treesandhurricanes.