It's always nice to find an easy-to-grow landscape plant that stuns with its beauty. The many varieties of Crinum lilies do just that and are a great addition to the north Florida landscape. Crinum lilies are not truly a lily, but a member of the Amaryllis family which also includes other familiar north Florida landscape plants such as onions (Allium), agapanthus (Agapanthus), daffodils (Narcissus), and other "lilies" such as spider lily (Hymenocallis) and hurricane lily (Lycoris). While there is one species of Crinum that is native (Crinum americanum), most of our cultivated species originate in Africa and/or Asia.
Crinums are considered to be among the largest of the true bulbs. Most should be treated with caution since they can be poisonous to children and pets, mostly through ingestion of plant tissue. Their leaves are typically long and strap-like with a glossy green color. The flowers are the real treat, appearing on the ends of bare stems, typically held above the plant's foliage. The flowers can be used for cut flowers, too.
Below are some of the more common Crinums that can be successfully grown in north Florida:
Crinum asiaticum
Giant Crinum, or poison bulb, is the largest of the Crinums and one of the more common ones to see in the landscape. The bright white flowers with showy, purple-tinged stamens are impressive.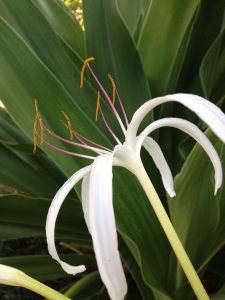 Crinum zeylanicum
This Crinum is often called the milk-and-wine crinum for the white and red striped flowers.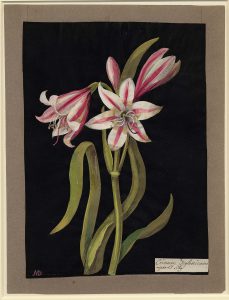 Crinum x amabile
The Queen Emma Crinum is a hybrid of the first two – C. asiaticum and C. zeylanicum. It has the size and shape of giant Crinum with maroon-tinted flowers and leaves.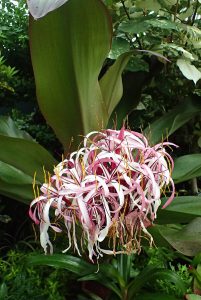 Crinum moorei
This Crinum goes by the common name natal lily and is native to the southern horn of Africa. This species has wider leaves than most with the natural flower color being a light pink. There is a white-flowered cultivar named 'Alba'.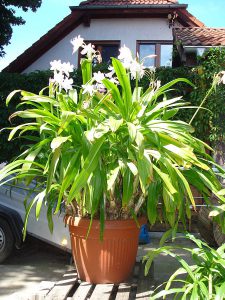 Crinum x powellii
This Crinum is a hybrid between C. moorei and C. bulbispermum. The most common cultivar is the 'Cecil Houdyshel' which has fragrant, rose-colored flowers.
In the landscape, these can be used as specimen plants, especially the giant Crinum or Queen Emma Crinum, or planted in mass. They all prefer full sun but wouldn't mind afternoon shade, and can handle partial shade, though blooms may be less showy. Most prefer moderately-drained soil, but can handle sandy sites with irrigation, especially during dry times. These plants come from warm climates and may get zapped by our winter cold snaps. Fortunately, their bulbs, have stored energy to flush out new growth the following spring. Pests and diseases are few, with grasshoppers and leaf spots in the summer being the main concerns.
There are many hybrid Crinums available to experiment with but look for those that are hardy to Zone 8. You can read more about Crinums on the UF/IFAS Gardening Solutions website or contact your local county extension office.
Latest posts by Mark Tancig
(see all)