After Hurricane Michael indiscriminately felled millions of trees in the Florida Panhandle five years ago, I've gotten much more selective with which trees I recommend to shade-seeking homeowners. Category 5 hurricanes don't strike every year, or even every decade, but Michael reminded us that 150 mph+ wind events are possible, and we should choose the trees we plant accordingly. Keeping Michael's lesson in mind, the shade tree I've recommended most to area homeowners lately is the ultra-wind resistant Nuttall Oak (Quercus texana) *.
While probably not native to our area (Nuttall is native to Mississippi River Valley bottomlands and nearby Gulf Coast regions), Nuttall Oak is a well-adapted deciduous oak species perfect for the Panhandle. The species is a strong, long-lived tree, yet also a quick grower (3-4' per year in its youth, reaching 60-80' at maturity). Unlike many rapidly growing trees, Nuttall is extremely resistant to wind breakage, disease, and other disfiguring issues. There are several Nuttall Oaks in Panhandle landscapes that survived Michael's fury completely intact, with little more than wind-whipped leaves as evidence a storm had passed.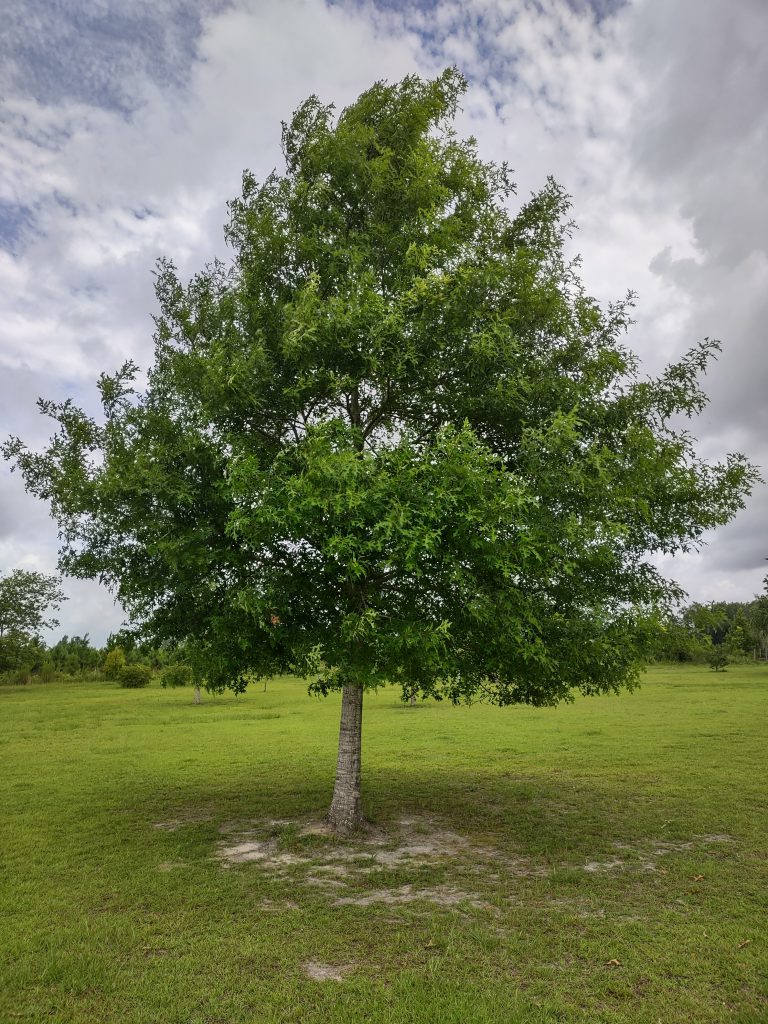 Nuttall is also an awesome landscape ornamental and a wildlife magnet in maturity. The species possesses a strong central leader and a stately, upright-rounded appearance. In summer, Nuttall leaves are large, dark green, deeply lobed, and pointed, somewhat reminiscent of our native Southern Red Oak. In fall, trees are capable of Blue Ridge quality color with fiery orange-red foliage, though the foliage show is not as consistent year to year here as farther north. The bark of Nuttall even has aesthetic appeal – dark and smooth in youth becoming ridged/furrowed with age. And it's not just people that find Nuttall attractive, several beneficial insects use Nuttall as a host plant and various wildlife (deer, squirrel, and ducks especially) are fond of the prolific, highly nutritious acorns that mature trees produce in earnest each winter.
Finally, Nuttall is among the easiest of trees to grow and thrives in a variety of landscape conditions. Because it's adapted to grow in poorly drained bottomlands that are either seasonally flooded or very dry, Nuttall is very tolerant of both compacted, poorly aerated soils common in urban areas and unirrigated, often droughty soils present in many Panhandle landscapes. However, like any tree, Nuttall Oak performs best with regular water and fertilizer for the first couple of years until established.
If you've been searching for a native-ish, hurricane-resistant, quick-growing, low-maintenance, wildlife-attracting shade tree for your property, Nuttall Oak is an excellent option and one I can fully recommend! For more information on Nuttall Oak or any other horticultural topic, please contact your local UF/IFAS County Extension Office. Happy gardening!
*Nuttall Oak was recently reclassified botanically from Quercus nuttallii to Quercus texana.
Latest posts by Daniel J. Leonard
(see all)