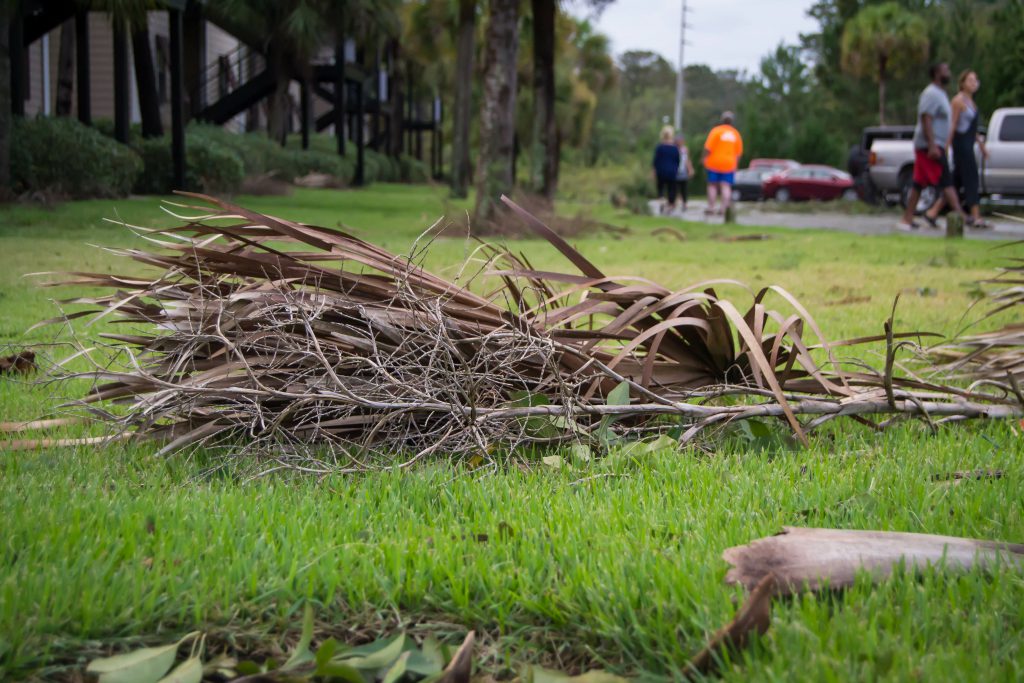 Hurricane Idalia recently tore through the Big Bend area, battering the coast and taking down trees, leaving thousands out of power. While much of the panhandle was safe from the strong winds and storm surge, we still got some gusty weather, and likely had some amount of cleanup to do following the storm. Fortunately for us, this time, it's mostly a lot of small branches and leaves versus entire trees that our fellow gardeners are cleaning up to the east of us. In addition to being thankful that larger branches didn't fall here, consider turning those small bits and pieces over to wildlife while collecting your wheelbarrow loads of debris. This is a great opportunity to practice sustainable landscape practices and a few Florida-Friendly Landscaping Principles.
The UF/IFAS Florida-Friendly Landscaping Program has nine principles that it encourages Florida homeowners to practice in their landscape to conserves Florida's natural resources. Three of the nine principles can be practiced by choosing how you manage the debris that has fallen – #4 Mulch, #5 Attract Wildlife, and #7 Recycle Yard Waste.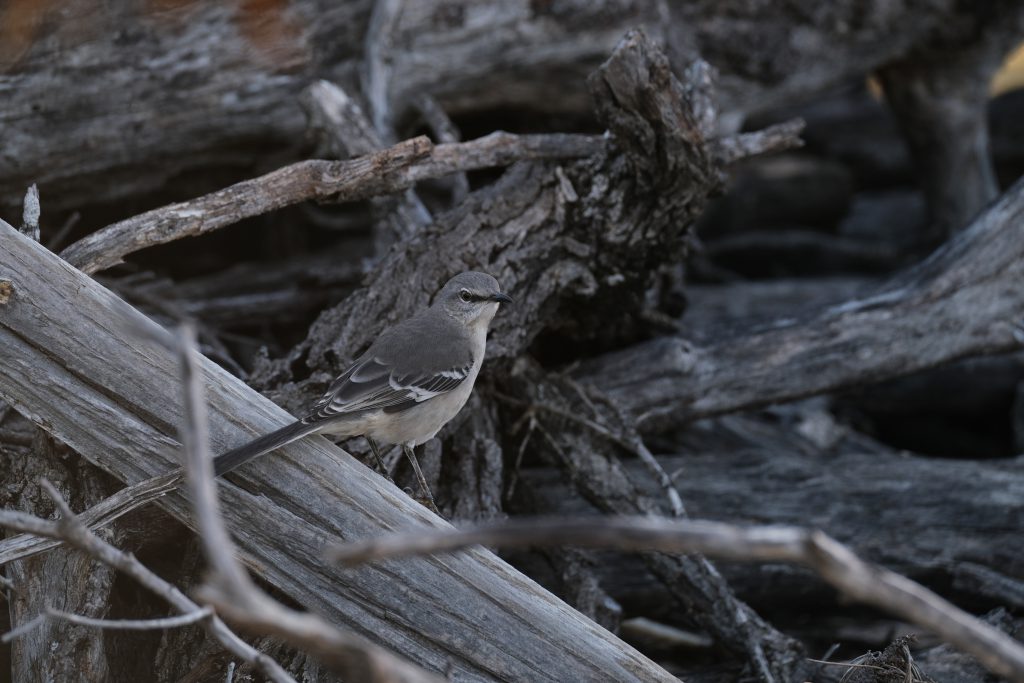 The first reaction when looking out at your landscape after a storm is typically "Ugh, there's a lot of stuff to clean up." We often want to "clean it up" and get it back to a sea of perfect cut grass, or at least sort of nice grass. However, the small branches and leaves that fall can be a great resource for wildlife, can provide mulch around a tree, and letting them rest reduces the need for you to haul all that stuff up to the road and all that goes into picking up, transporting, and processing the material.
The larger branches (four to six inches in diameter and larger) can be used for firewood or a naturalistic bed edging. Otherwise, they can go into a large brushpile. Smaller sticks and branches are perfect for one large brushpile, or, if a large pile doesn't meet your aesthetic desires, a series of small piles scattered or hidden behind some shrubs is a good compromise. The leaves and really small stuff (branches no larger than a pencil) can be raked up for mulch, added to the brushpile(s), or just left in place to naturally rot away and/or get shredded up by the mower.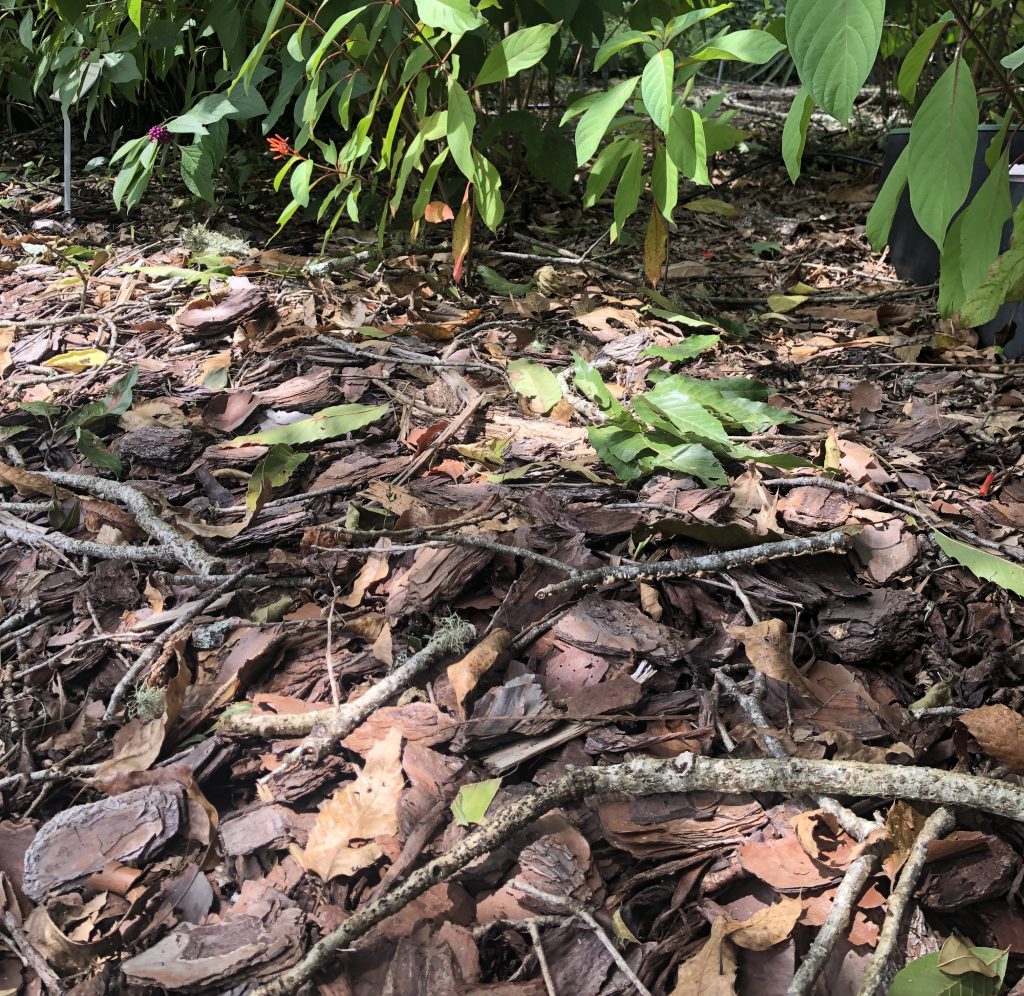 No matter how you leave the debris, consider how important this material is for all sorts of wildlife. Dead wood supports microbes, fungi, and animals up and down the food chain and even adds to your soil organic matter. While it may not look "clean" to us, those bits of "trash" are gold to many critters, especially small insects that bring birds to the yard. So, during cleanup, consider leaving little treats here and there for wildlife and spend less time hauling it to the road! For more information about the Florida-Friendly Landscaping Principles, visit the UF/IFAS Florida Friendly Landscaping Program website.
Latest posts by Mark Tancig
(see all)