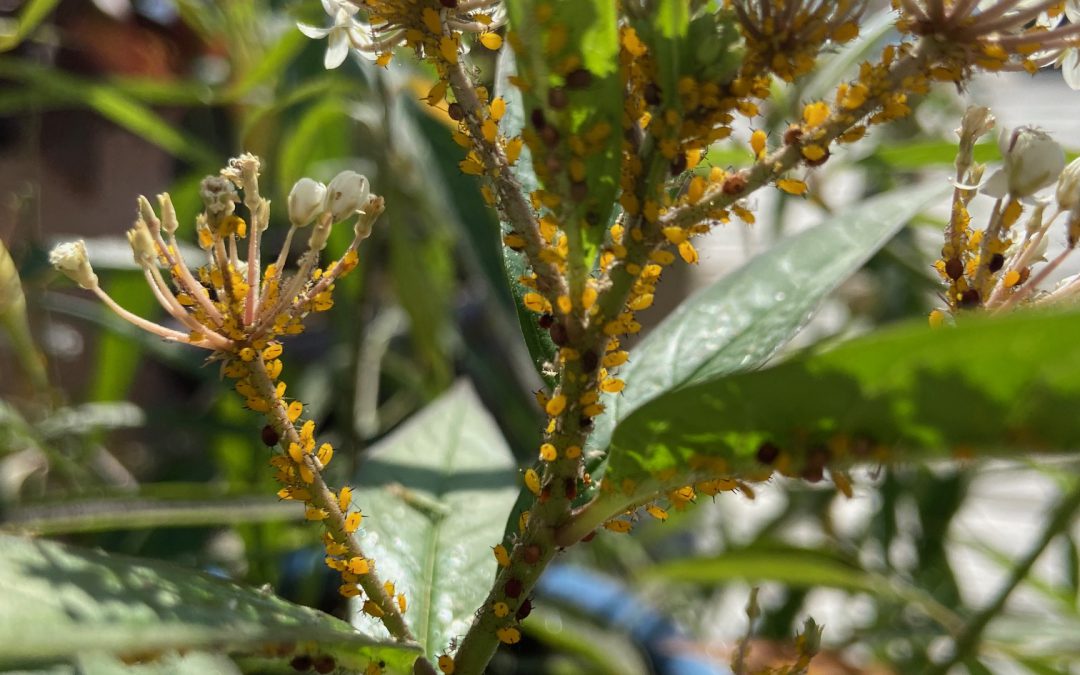 Milkweeds are appreciated for their beauty, but often we cultivate it for the benefit of the monarch butterflies who lay their eggs only on this plant genus. Avid butterfly gardeners want the monarch caterpillars to eat up the milkweed and become beautiful butterflies. Often instead, thousands of aphids show up and compete for space on the plants. These bright yellow aphids are known as oleander aphids.
Just how do aphids build up their populations so quickly? It seems that one day you have a small number on a few plants and then a few days later, thousands are all over your milkweed. Oleander aphids have a few advantages for quickly building their populations:
All oleander aphids are female and do not need to mate to produce their young
Aphids give birth to live young who immediately start feeding on the plant
Aphids start reproducing when they are 4 to 10 days old and keep reproducing during their one-month life span
When populations get heavy or the plant starts to decline, winged individuals are produced to migrate to new areas and plants.
What can or should you do to control this pest?
One option is to do nothing and let the natural enemies come in and do their job. One of the best is a very tiny wasp that you will likely never see. This parasitoid lays its eggs only inside aphids. The wasp larva feeds on the inside of the aphid and turns it into a round brown 'mummy' and then emerges when mature by making a round hole in the top of the aphid. Look closely with a hand lens at some of those brown aphids on your milkweed and you can see this amazing process. Another common predator I see in my own garden is the larvae of the hover fly or syrphid fly. You will have to look hard to see it, but it is usually there.  Assassin bugs and lady beetles also commonly feed on aphids. The larvae of lady beetles look nothing like the adults but also are voracious predators of aphids – check out what they look like.
If you think your situation requires some sort of intervention to control the aphids, first check carefully for monarch eggs and caterpillars, keeping in mind that some may be very small. Remove them, shoo away any beneficial insects, and spray the plant completely with an insecticidal soap product. Recipes that call for dish detergents may harm the waxy coating on the leaves and should be avoided. The solution must contact the insect to kill it. Always follow the label instructions. Soap will also kill the natural enemies if they are contacted. One exception is the developing wasp in the aphid mummies – fortunately, they are protected inside as the soap does not penetrate. Oils derived from plants or petroleum can serve the same purpose as the insecticidal soap.
You also can squish the aphids with your fingers and then rinse them off the plant. If you only rinse them off, the little pests can often just crawl back onto the plant.
There are systemic insecticides, like neonicotinoids, that are taken up by plant roots and kill aphids when they start feeding on the plants. However, those products also kill monarch caterpillars munching on the plant and harm adult butterflies, bees, and other pollinators feeding on the nectar. So those products are not an option. Always read the product label as many pesticides are prohibited by law from being applied to blooming plants as pollinators can be harmed.
In the end, consider tolerating some aphids and avoid insecticide use in landscape.