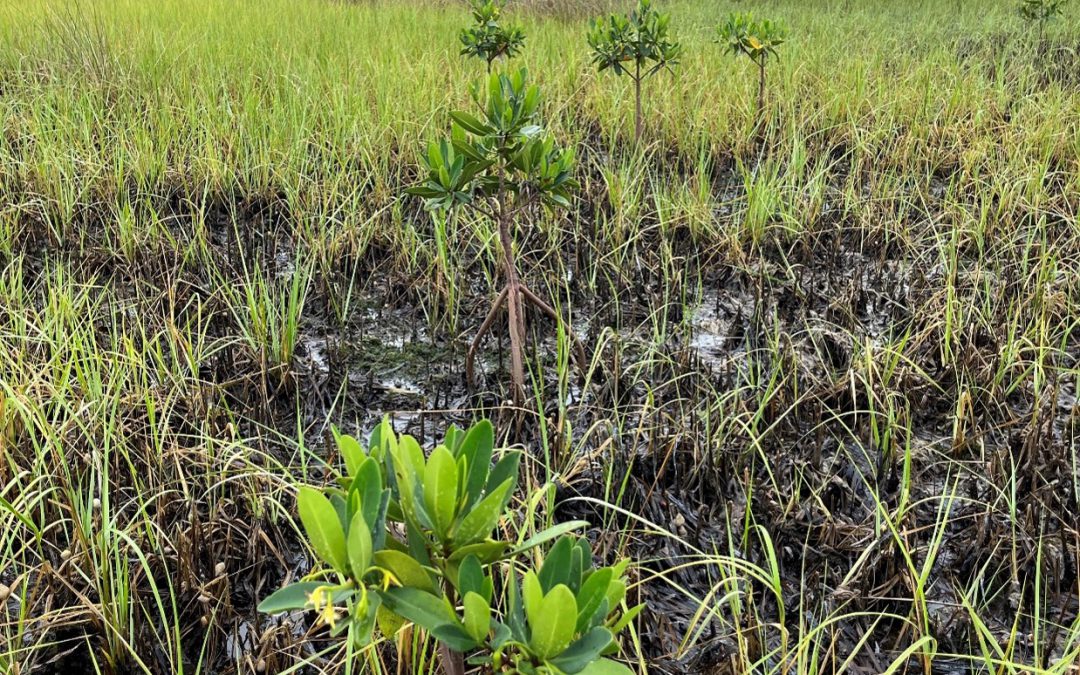 Today I'll be spotlighting the mangrove. If you've been to the southern part of the State, you've most likely come in contact with this truly Florida native plant. They're an essential part of the shoreline ecosystem in that region and as common as pine trees are to our area. The Florida Department of Environmental Protection estimates 600,000 acres of mangrove forests in the State's coastal zone. If your investigative skills are sharp, you may now find pockets or singular mangrove plants in the Panhandle.
Mangroves are woody trees that live along tropical and subtropical shorelines in either marine or brackish tidal waters. Typically, mangrove distribution has been found between latitudes 25 degrees south to 25 degrees north. There are 80 species known worldwide with 3 species (red, black & white) historically calling south Florida home.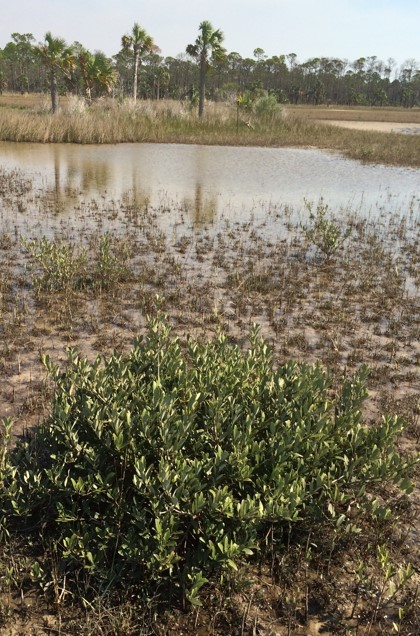 However, warmer ocean waters and more frequent and stronger tropical storm activity has helped the spread of mangrove seed or "propagules". Mangroves have been slowly migrating northward in Florida, on both the Atlantic and Gulf sides. From the early 1990's, researchers began to find mangroves in both Cedar Key and Cape Canaveral.
A multi-state partnership to assess mangrove expansion in the northern Gulf of Mexico began in 2018. Sea Grant Agents from the Panhandle of Florida to Louisiana collaborated to conduct field surveys in chosen coastal wetland and estuary zones. More than 500 plants were recorded over a 3-year period with 188 plants found in Florida. The study also confirmed the abundance of black mangrove species due to their ability to withstand light freezing temperatures over red and white mangroves.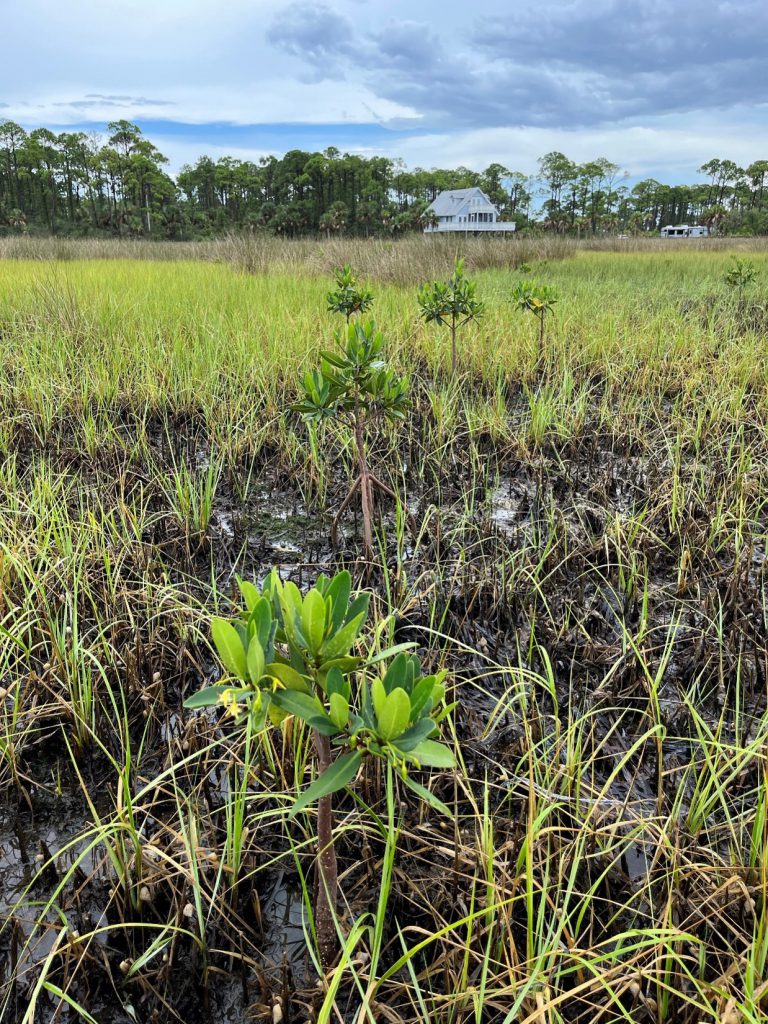 As for their impact on our Panhandle wetland ecosystems, one consistent theme found in the literature is that there are ecological trade-offs for consideration by coastal scientists and natural resource managers (Osland et al, 2022). The benefits of mangroves are broad. Mangroves have been shown to filter runoff, trap carbon in peat, act as a buffer against flooding, improve water quality, and to provide an amazing habitat and food web for invertebrates, fish, terrapins and many bird species. Mangrove range expansion may also affect wetland stability in the face of extreme climatic events and rising sea levels and be used as a shoreline stabilization technique, as taught in the Florida Master Naturalist Program: https://masternaturalist.ifas.ufl.edu/. Mangroves are also a pollinator plant and a favorite of honeybees. Mangrove honey has become a sought-after delicacy for many and a niche crop for south Florida beekeepers. But what about the negatives? Some of the environmental concerns are increased nuisance insects, altered food webs, freeze vulnerability and the economic factor of reduced accesses to fishing areas (Osland et al, 2022).
With mangrove expansion being a relatively new topic, researchers, naturalists and plant enthusiasts alike, will be following the movement with great enthusiasm.
For more information about mangroves, contact your local county extension office.
Reference:
Osland, M. J., Hughes, A. R., Armitage,R., Scyphers, S. B., Cebrian, J., Swinea, S. H., Shepard, C. C., Allen, M. S., Feher, L. C., Nelson, J. A., O'Brien, C. L., Sanspree, R., Smee, D. L., Snyder, C. M., Stetter, A. P., Stevens, P. W., Swanson, K. M., Williams, L. H., Brush, J. M., … Bardou, R. (2022). The impacts of mangrove range expansion on wetland ecosystem services in the southeastern United States: Current understanding, knowledge gaps, and emerging research needs. Global Change Biology, 28, 3163–3187. https://doi.org/10.1111/gcb.16111