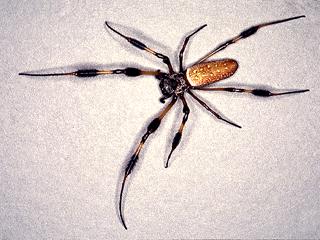 Unknowingly we interact with many small creatures in our everyday lives. Spiders are one of these groups that are beneficial to the function of human activity. This group receives much publicity as being dangerous to people and our pets. While there is always a possibility of being bitten and having venom injected by a few types of spiders, most all others are harmless to people. The primary benefit of spiders is their propensity for catching insects outside and in the home that are identified as harmful to people. Spiders come in all shapes and sizes with many hiding away, never to be seen by people.
Spiders are often included in the same group as insects, but this is not true. They belong in the group arachnids and are closely related to ticks, scorpions and mites. Spiders have two body sections (cephlothorax and abdomen) and have eight legs while insects have three body sections (head, thorax and abdomen). Scorpions usually remain outdoors and may be found indoors during hot dry periods. They are nocturnal hunters of pests that include roaches. None of the scorpions native to Florida are capable of providing a lethal sting, but it is painful when it occurs, leaving a sore and swollen at the sting area. I was reminded of this after stepping on one in the late evening while moving around the kitchen with no lights on. If the person that is stung has allergic reactions to bee stings, observe them and take precautionary health measures needed.
The spider is an important predator of harmful insects and can be found about any where in and around the home, in the garden, and many other places in the great outdoors. An Extension Entomologist I knew from North Carolina State University always mentioned, when presenting to Master Gardener Volunteer classes, that at almost any time given time, we are within two to three feet of a spider, with most so small we never see them. They are great at keeping the beneficial and harmful insect populations in balance in nature.
If you decide to spray to manage your spider population, keep in mind that by reducing the number of spiders in the landscape, you can create a reverse problem with harmful insect populations increasing dramatically. If big webs are a bother, simply take a broom and knock them down. They will rebuild by the next day, but you may not need to be in that area for a while. Always be careful and wear gloves when working in the garden, especially areas that are dark and covered, such as irrigation valve boxes, wood stacks, and other similar places. These are prime locations where the Black Widow or Recluse spiders may be set up, waiting to ambush roaches and other insects. If you are bitten by either seek immediate medical care.
Finally, spiders are fun to observe in nature! One of the most interesting spiders to watch is observable during fall in Florida – the Yellow Garden Spider. They build large webs and often place a zig zap signature in the middle. This large spider catches many insects in the garden and landscape. With early morning sunlight and dew hanging on the web during the fall, it makes for a beautifully create piece of art. Enjoy nature and all the creative processes that occur from a safe distance – spiders included!