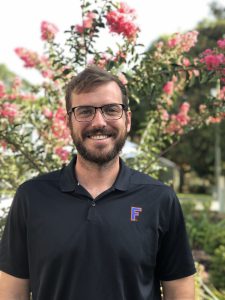 Daniel is the UF/IFAS Calhoun County Extension Director and the Agriculture, Horticulture, and Natural Resources Agent in the county also! Daniel is a fifth generation native northwest Floridian, born and raised near Blountstown on a timber farm. This experience growing up gave him a general love of the outdoors and nature, which he has continued to cultivate in his landscape and the woods and water of the Panhandle.
Daniel has a B.S. in Environmental Horticulture and a M.S. in Agricultural Education and Communications – both from the University of Florida. This combination of these degrees has allowed him to succeed in Extension both in subject matter expertise and in design and delivery of quality educational programs. He began his professional career at Panhandle Growers, Inc (PGI), an ornamental tree farm in Santa Rosa County. During his time there as Production Manager, Daniel learned valuable lessons of leadership, team management, and even a little Spanish. Following his time at PGI, Daniel decided to pursue a career in Extension, first in Walton County as Horticulture Agent and Master Gardener Coordinator and now back in his home community. His Extension program focuses on providing evidence-based solutions for residents in their home landscapes and vegetable gardens, agricultural producers in their crop fields and pastures, and landowners on their managed woodlands.
When he's not in the landscape or out in a field with clients, Daniel prefers to be on the water with his fly rod, in the woods managing his family's farm for wildlife, or at home meticulously tending his raised bed garden. He and his wife Ali had their first date in a botanical garden and, when not confined due to COVID, enjoy travelling, eating Key Lime Pie for breakfast, and parenting their dogs, El J and Manu.
Latest posts by Daniel J. Leonard
(see all)