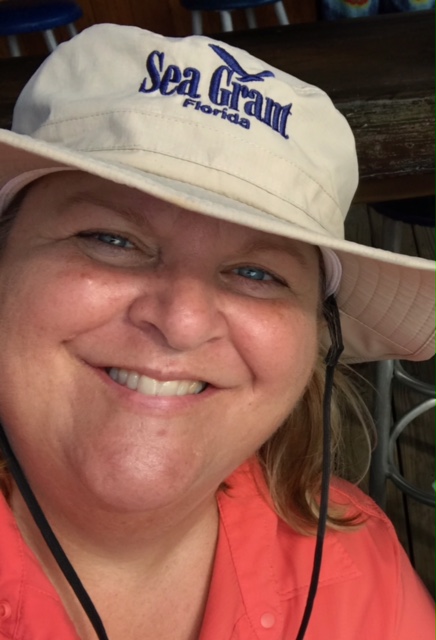 Laura Tiu is the Marine Science Sea Grant Agent with the University of Florida Extension Service in Okaloosa and Walton Counties. Raised in Sioux City, Iowa, she left the cornfields of the Midwest to pursue her dream of becoming a marine biologist, following in the footsteps of the infamous Jacques Cousteau.  Living in the Philippines for four years was the educational experience of a lifetime, with adventures to the tops of mountains to the depths of the sea.  She was fortunate to work on the very first marine preserve in the Philippines on Apo Island, which has since evolved into a scuba diver paradise.
Coming back stateside, her first professional job was as a fish breeder on a tropical fish farm in Plant City, Florida.  This is where her passion for aquaculture was born.  After a brief stint at Mote Marine Laboratory in Sarasota, Florida, Laura left for Mississippi State University where she earned a Master of Science degree in Wildlife Ecology, focusing on fisheries and aquaculture.  Her thesis explored the impact of largemouth bass maternal size on survival of fry.  Not one to follow a straight path, Laura joined the staff at Kentucky State University Aquaculture Program where she spent the next eight years doing fish nutrition work on multiple species including catfish, trout, hybrid striped bass, hybrid bluegill, paddlefish and freshwater prawn. This experience gave her a great appreciation and understanding how research can help grow the burgeoning aquaculture industry.
With a desire to do Extension work and a goal to continue her graduate work, Laura spent the next 18 years at The Ohio State University where she earned her Ph.D. in Extension Education while serving as Director of the Aquaculture Extension Program.  She was responsible for supporting the development of a sustainable aquaculture industry in Ohio and throughout the Midwest.  During her tenure, the number of aquaculture operations in Ohio increased from 30 to over 200, with many of the startups graduating from her Aquaculture Boot Camp program.
Circling back to her passion for marine science, Laura joined the University of Florida Sea Grant program in 2015.  Her current programs include natural resource and environmental education and aquaculture.  She provides programming in natural resource stewardship through the Florida Master Naturalist Program and Panhandle Outdoor Live, which offers interpretive, and now virtual, environmental education.  She loves to educate clients about the awesome natural resources in the Panhandle including the farm ponds, numerous springs, creeks, rivers, estuaries, beaches, offshore reefs, and the coastal dune lakes of Walton County.  She spends a good part of her summer helping with the 4-H marine camps at Camp Timpoochee in Niceville, FL. Her aquaculture passion remains strong through her work with a growing aquaponics community in the state.
Laura lives with her retired husband in DeFuniak Springs, FL where they enjoy fishing, kayaking, swimming and exploring the great natural resource areas in the Panhandle.  She loves to play tour guide when her two grown sons, family and friends come to visit.  "I just love to show off the natural beauty of our area and help others better understand what they can do to help protect our environment."