Spring can be a busy time of year for those of us who are interested in improving wildlife habitat on the property we own/manage. Spring is when we start many efforts that will pay-off in the fall. If you are a weekend warrior land manager like me there is always more to do than there are available Saturdays to get it done. The following comments are simple reminders about some habitat management activities that should be moving to the top of your to-do list this time of year.
Aquatic Weed Management – If you had problematic weeds in you pond last summer, chances are you will have them again this summer. NOW (spring) is the time to start controlling aquatic weeds. The later into the summer you wait the worse the weeds will get and the more difficult they will be to control. The risk of a fish-kill associated with aquatic weed control also increases as water temperatures and the total biomass of the weeds go up. Springtime is "Just Right" for Using Aquatic Herbicides
Cogongrass Control – Spring is actually the second-best time of year to treat cogongrass, fall (late September until first frost) is the BEST time. That said, ideally cogongrass will be treated with herbicide every six months, making spring and fall important. When treating spring regrowth make sure that there are green leaves at least one foot long before spraying. Spring is also an excellent time of year to identify cogongrass patches – the cottony, white blooms are easy to spot. Identify Cogongrass Now – Look for the Seedheads; Cogongrass – Now is the Best Time to Start Control
Warm-Season Food Pots – There is a great deal of variation in when warm season food plots can be planted. Assuming warm-season plots will be panted in the same areas as cool-season plots, the simplest timing strategy is to simply wait for the cool-season plots to play out (a warm, dry May is normally the end of even the best cool-season plot) and then begin preparation for the warm-season plots. This transition period is the best time to deal with soil pH issues (get a soil test) and control weeds. Seed for many varieties of warm-season legumes (which should be the bulk of your plantings) can be somewhat hard to find, so start looking now. If you start early you can find what you want, and not just take whatever the feed store has. Warm Season Food Plots for White-tailed Deer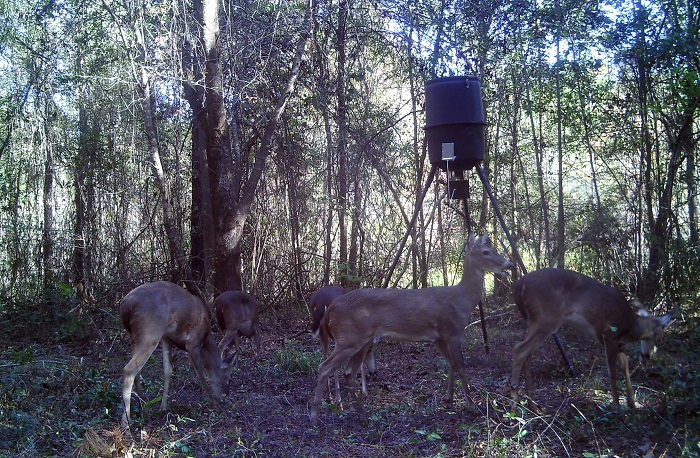 Deer Feeders – Per FWC regulations deer feeders need to be in continual operation for at least six months prior to hunting over them. Archery season in the Panhandle will start in mid-October, meaning deer feeders need to be up and running by mid-April to be legal to hunt opening morning. If you have plans to move or add feeders to your property, you'd better get to it pretty soon. FWC Feeding Game
Dove Fields – The first phase of dove season will begin in late September. When you look at the "days to maturity" for the various crops in the chart below you might feel like you've got plenty of time. While that may be true, don't forget that not only do you need time for the crop to mature, but also for seeds to begin to drop and birds to find them all before the first phase begins. Because doves are particularly fond of feeding on clean ground, controlling weeds is a worthwhile endeavor. If you are planting on "new ground", applying a non-selective herbicide several weeks before you begin tillage is an important first step to a clean field, but it adds more time to the process. As mentioned above, it's always pertinent to start sourcing seed well in advance of your desired planting date. Timing is Crucial for Successful Dove Fields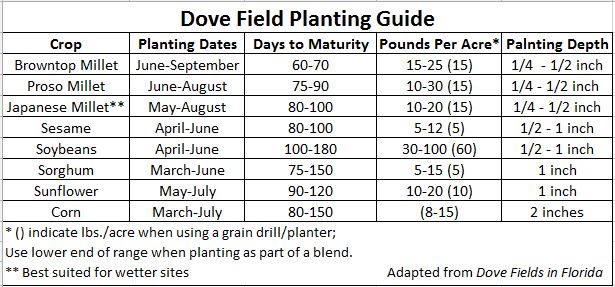 There are many other projects that may be more time sensitive than the ones listed above. These were just a few that have snuck up on me over the years. The links in each section will provide more detailed information on the topics. If you have questions about anything addressed in the article feel free to contact me or your county's UF/IFAS Extension Natural Resource Agent.
Latest posts by Mark Mauldin
(see all)