It certainly appears that I am on an insect kick of late based on the content of my last three newsletter articles. Honestly though, when I think about it, bugs definitely rank near the top of my list for mystery and intrigue in the natural world. When we begin to dig into the details of their life histories, the revelations are mind-boggling, to say the least. Take the process of metamorphosis for instance. Scientists have described this process in detail and even identified the many hormones that trigger the changes that take place. But when I look at a caterpillar, then a pupa, and finally an adult Luna moth, all of the scientific knowledge in the world could never quell the flood of pure awe that wells up inside. Okay, I get emotional just thinking about it so let's move on.
Luna moth caterpillars go through four molts, producing five instars, all exhibiting distinctly different characteristics. The fifth instar can be almost three inches long and has more bristly hairs on its skin than earlier instars. It also undergoes a dramatic color change and begins to wander as it gets very close to pupation. I saw one crossing a road once and took a picture to ID later. I was shocked to learn that it was the same species as the bright green ones I had seen pictures of. Another incredible fact about luna moth caterpillars is that when exposed to long photoperiods they tend to complete their pupal phase within 2-3 weeks but short photoperiods (i.e. as winter approaches) result in pupae that enter a dormancy period that can last up to 9 months. I remember finding a silk cocoon when I lived in Indiana during graduate school and brought it inside one Fall. I left it somewhere in the apartment and totally forgot about it. The following Summer we came home one day to find a large, beautiful cecropia moth hanging on the curtains (at least 8 months from when I found it).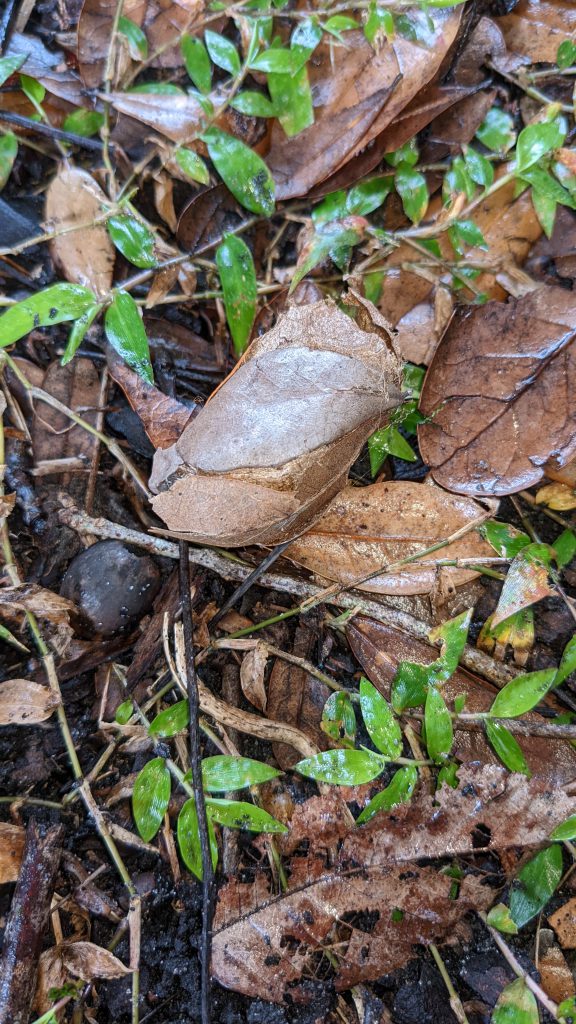 Over my years of living in North Florida, I have had the fortune to come across several native moths belonging to the family Saturniidae. These have included the cecropia moth, luna moth, polyphemus moth, promethea moth, royal walnut moth (a.k.a. regal moth), imperial moth, orange-tipped oakworm moth, rosy maple moth, pine devil moth and io moth (beware the stinging spines of the io moth caterpillar). Some of the most visually stunning species in this group belong to the sub-family Saturniinae and are referred to as giant silk moths. This group spins a silken cocoon in which it resides during the pupal phase. When the transformation is complete, it uses horny spurs on its thorax near the base of the forewings to cut its way out of the silk cocoon. Once free of the cocoon it will find a suitable resting place to pump fluid from its swollen body into the wings until they are fully unfolded and hardened for flight. Males typically hatch a few days ahead of females and locate potential mates by homing in on pheromones produced by females.
The adult phase of a luna moth's life is usually only about 10 days, during which time its sole mission is to mate and produce offspring. Adult moths do not even feed but live off resources stored during the larval phase. A good place to get a look at one of these magnificent creatures would be your local Recreation park during the summer months when the lights are on at the ball fields. Many of our giant silk moths are strongly attracted to lights at night and it is not unusual to find one flying around the lights or resting on a nearby structure. If you ever cease to be blown away by thinking about what it takes to make a moth into a moth, I would suggest you spend a few minutes searching your computer for images of praying mantis species (specifically, the orchid mantis). So many amazing insects out there!

Latest posts by Erik Lovestrand
(see all)