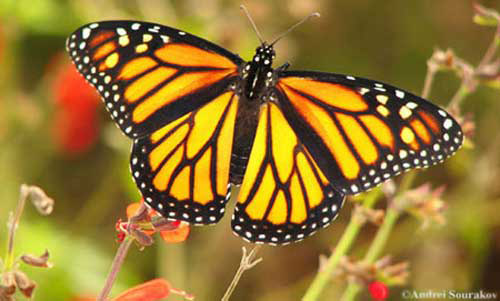 In the fall of the year, North American monarch butterflies travel from their summer breeding grounds to overwintering location. Those from east of the Rocky Mountains, travel up to an astonishing 3,000 miles to central Mexico. Unlike summer generations that only live for two to six weeks as adults, Eastern monarch adults emerging after about mid-August can live up to nine months. They enter reproductive diapause and begin migrating south in response to decreasing day length and temperatures. This generation has never seen the overwintering grounds before.
As the Monarch butterflies migrate through the Panhandle, saltbush (Baccharis halimifolia), is a must visit. Their tiny, white to greenish blooms and "fuzzy-looking" fruit come into flower and are attractive at a time when few other small trees and shrubs are flowering, bring this rarely-noticed native plant into view in the fall landscape.
Saltbush is an oval to rounded, freely branched, multi-stemmed, hardy, semi-evergreen to deciduous, cold-tolerant shrub usually not exceeding about 12 feet in height. Its leaves are 1-3 inches long and about 1 1/2 inches wide, often deeply toothed, and shiny to grayish green. No serious pests are normally seen on the plant. Also referred to as Groundsel, it is native to coastal and interior wetlands throughout Florida, often seen in its native habitat with Wax Myrtle, Buttonbush and Marsh Elder.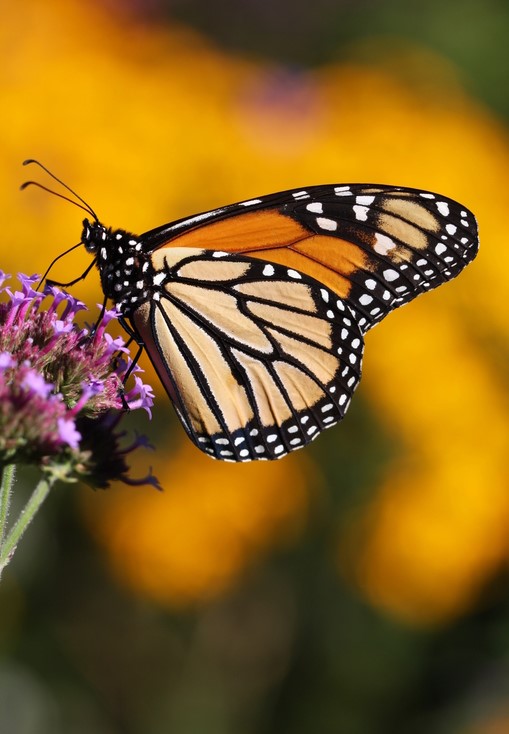 The average pace of the migration is around 20-30 miles per day. But tag recoveries have shown that monarchs can fly 150 miles or more in a single day if conditions are favorable. Monarchs migrate during the day, coming down at night to gather together in clusters in a protected area. In the south, they might choose oak or pecan trees, especially if the trees are overhanging a stream channel.
Monarchs migrate alone—they do not travel in flocks like birds do. So they often descend from the sky in the afternoon to feed, and then search for an appropriate roosting site. Most roosts last only 1 or 2 nights, but some may last a few weeks.
By early November, the monarchs gather in oyamel fir (Abies religiosa) trees on south-southwest facing mountains in central Mexico. Orientation of insects is not well understood by entomologists. It can't be learned from their parents since it's the fourth or fifth generation that migrates south. Celestial cues (the sun, moon, or stars) and the earth's magnetic field are the most accepted driving forces influencing the monarch butterflies' instincts. Unique genetics in North American monarchs have been discovered by researchers. Low metabolic rates and changes in muscle function make migrating butterflies endurance athletes.
The earliest records of overwintering clusters of monarchs are from the 1860s. The chosen grounds provide all the elements needed for overwintering. Because monarchs need water for moisture, the fog and clouds in the two-mile-high mountainous region provide a perfect resting area. Clustered together, covering the trunks and branches of the sacred fir trees, the monarchs are protected form the occasional frost, snow, rain, or hail by the thick canopy of the tall trees, surrounding shrubs, and nectar providing flowers. Milkweed is not the essential plant for the overwintering generation. Come spring, the monarch will begin their search for the milkweed.