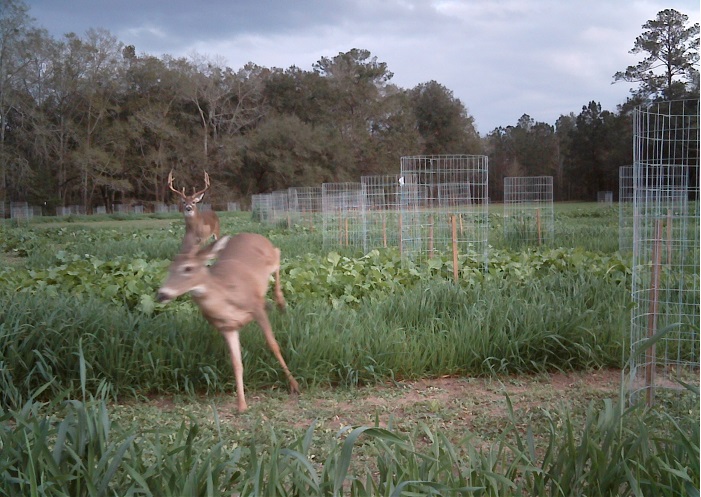 When I sat down to start writing this article, I was thinking it would be a rewrite of an article I posted back in 2016, Don't Rush Wildlife Plantings – Wait for the Rain. The prolonged period of dry weather which the Panhandle has been experiencing and the time of year made the topic appropriate. However, I am happy to report that it has rained almost two inches at my house in Chipley in the past 24 hours. This changes things a bit – at least for those of us who were fortunate enough to have received rain. For those who did not get rain, see the aforementioned article. If you did get rain, it's time to start getting some seed in the ground.
All that said, instead of just focusing on dry conditions I am going to share some highlights from recent conversations I've had regarding the establishment of cool-season food plots. For the sake of brevity, I may not elaborate fully on each point, feel free to call of email me if you have any questions or would like to discuss further.
Check your pH. Collect a good representative sample from each of your food plots and have it analyzed by a reputable lab. Contact you County Extension Office for help with this. Food plots are notorious for being planted on marginal sites (not good farmland) where the pH needs to be modified. Poor pH will inhibit plant performance and reduce plant response to really expensive fertilizer applications. In general, food plots perform the best with a pH of 6 – 6.5.
You're gonna have to make those really expensive fertilizer applications if you want to see real plant performance. See the comment above about marginal sites. Even good soils require fertilizer to make a good crop. A lab analysis is the only way to know exactly what you need. Just for the sake of reference, applications of 300lbs of 13-13-13 per acre as soon as the plants are up good is a pretty standard starting point and generally multiple applications are needed during the season.
Deer like broadleaf plants considerably more than they like grasses. Cool-season grasses (oat, wheat, triticale, cereal rye) are relatively inexpensive and easy to grow. Deer will utilize them some and game birds will feed on seed heads in the spring.  
Brassicas (Kale, Rape, Radish, Turnip, Swede) are broad-leafed and grow very quickly on a wide variety of soil types. Unfortunately, deer preference for them is somewhat hit-or-miss and they are not readily utilized by other game species.   
Cool-Season legumes (clover, winter peas, vetch) are generally what deer show the greatest preference for and, when properly inoculated, do not require any nitrogen fertilizer. Cool-season legumes are somewhat finicky about what soil types they will perform well on. They all like moderately well drained heavier soils with some clay content (good upland farm ground) and they all struggle in deep, excessively drained sands. For sites on the wetter side (more poorly drained) look at white clovers. For sites on the drier side (well to excessively drained) look at the vetch, peas, and maybe crimson clover.
In general, seed size dictates optimum planting depth. Large seeds (grasses, vetch, peas) can be planted deeper (1-2 inches). Small seeds (clover) need to be planted very shallow (0-0.5 inches). This variation in planting depth likely will necessitate separate techniques for large and small seeds as small seeds planted too deeply will fail to emerge. Small seeds, like clover, need to be planted into a firm seed bed. To achieve a firm seed bed, prepare soil and wait for the tilled soil to settle and preferably become rain packed. If waiting is not an option soil should be firmed with a cultipacker or roller.  
Much more information on cool-season planting options is available in the document:
A Walk on the Wild Side: 2021 Cool-Season Forage Recommendations for Wildlife Food Plots in North Florida.
Don't hesitate to contact me to discuss any of the points above in greater detail. Mark Mauldin mdm83@ufl.edu; 850-638-6180.
Latest posts by Mark Mauldin
(see all)