What do ice cream, make-up, paint, plastic, air freshener, laundry detergent, cellophane, and rayon fabric have in common? They all have pine tree in them. There are hundreds of products that contain the cellulose or sap from the pine tree species native to Florida's panhandle, particularly Longleaf and Slash pines.
Early foresters of the 1800's discovered these pine species that grew tall and strong. In fact, Longleaf pines were so overharvested that there is only about 3% of the original forests remaining today. These trees not only provided a huge resource for lumber, they also supplied the fluids necessary to support the timber industry – turpentine. By "cat-facing" (cutting downward angled slashes) the trunk of pine trees, the sap would flow into collection cups placed on the trunks. It was collected and heated.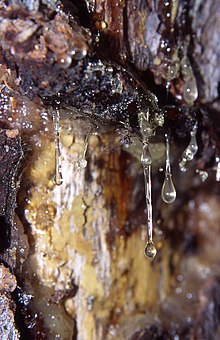 Turpentine is a fluid obtained by the distillation of resin harvested from pine trees. As a solvent, it is used for thinning oil-based paint, for producing varnishes, and as a raw material for the chemical industry. Add some beeswax and it becomes furniture wax. In the early years, turpentine mixed with coal oil and kerosene was used as a topical wound dressing and lice treatment. Add some animal fats to make primitive vapor rub.
Terpene is the scientific term coined in 1866 to denote all hydrocarbons with the formula C10H16. The word was a shortened form of "terpentine", the obsolete spelling of "turpentine". Terpenes are major biosynthetic building blocks for the oils in plants. For the plants, these oils play a critical role in defense against herbivory, build disease resistance, and aid in attracting pollinators. When the resin of pine trees (turpentine) is distilled, each of the terpenes can be separated. Based on there formulation, the terpenes are the base for fragrances and flavoring in numerous consumer products. With various heating treatments, many "fresh scented" cleaning products and antiseptics can be produced. Others terpenes will add "taste" to ice cream, chewing gum, and even beer. The cellulose separated from the turpentine is used to provide "structure" to cosmetics, fabrics, impact-resistant plastics, and modern digital display screens.
Who knew that you could get so many uses from pine trees. They are not just for making 2 x 4s anymore. In fact, the 1939 Nobel Prize in Chemistry was awarded to the scientist that sorted out the 55,000 terpene compounds from turpentine. You may never look at a pine tree (or your beer) the same way again.
Latest posts by Sheila Dunning
(see all)