CONNECTING WITH THE LAND
With less than 2% of the American population now living on farms, many people have become increasingly disconnected from the intricate world of agriculture and food production. Consumers are showing a growing curiosity about where their food comes from and the technology behind its cultivation. Agritourism is emerging as a promising way to bridge this gap by offering the public a chance to witness or participate in various farming, ranching, historical, cultural, or "harvest-your-own" experiences on real farms, ranches, or operational forests. Essentially, it's the perfect blend of Florida's two major industries: tourism and agriculture. Whether you're picking your own produce, navigating corn mazes, exploring pumpkin patches, or enjoying farm-to-table dining experiences, agritourism offers both delightful and educational farm-based adventures. This article provides an overview of the exciting world of agritourism.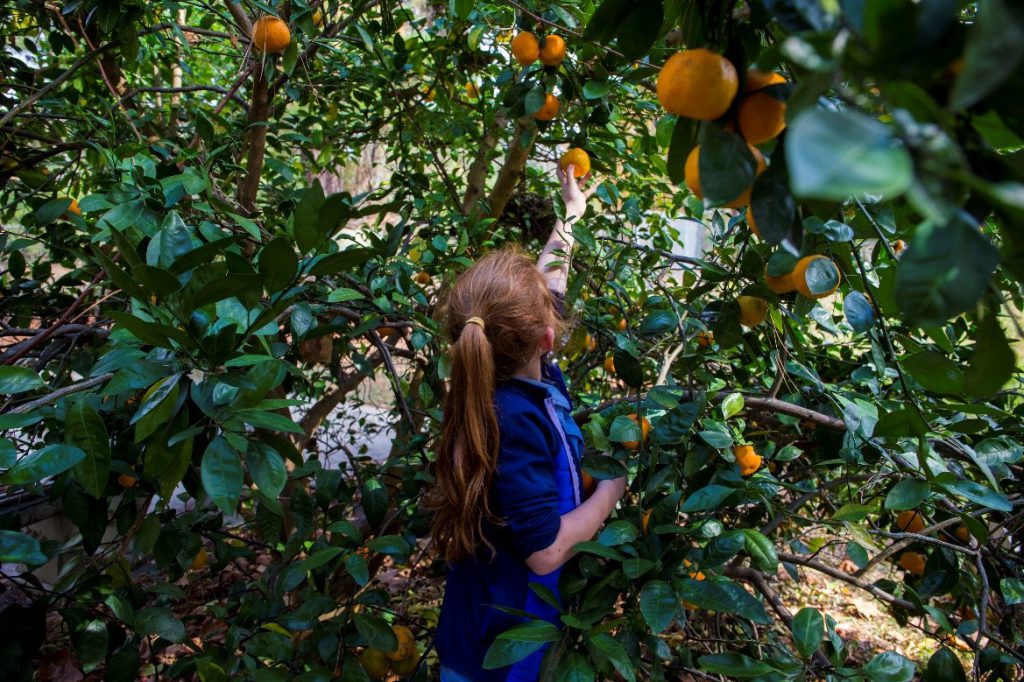 A young girl picking an orange from a tree. Photo taken 12-05-16. UF/IFAS Photo by Camila Guillen
WHY CONSIDER AGRITOURISM
Farm tourism is a growing industry in the U.S., with many Americans spending on recreational activities on farms.
Agritourism supports environmental conservation and wildlife by requiring land management for activities like wildlife photography, bird watching, and fishing.
There are economic incentives available from federal and non-profit organizations for setting aside land for wildlife conservation.
Agritourism offers social benefits to local communities, providing opportunities to educate the public about agriculture and promoting local sustainable markets.
Before embarking on an agritourism venture, it's essential to be well-informed about the associated advantages and disadvantages.
AGRITOURISM OPPORTUNITIES
In addition to traditional agritourism activities like horseback riding, U-pick fields, and bed-and-breakfasts, many farmers have expanded their offerings to attract visitors. These new ideas encompass a wide range of experiences, including corn mazes, informative farm tours, farm museums, seasonal or holiday festivals, nature trails, hayrides, fee-based hunting or fishing opportunities, camping experiences, corporate picnics, engaging farm zoos, and more. To enhance the success of your agritourism operation, it's crucial to create a distinctive experience. This entails not only the core tourism activity but also the provision of special services such as facilities, educational signs, convenient parking, informative newsletters, and memorable souvenirs like T-shirts. Additionally, the atmosphere cultivated by you and your staff plays a pivotal role in leaving a lasting and positive impression on your visitors. Consider developing a plan before getting started.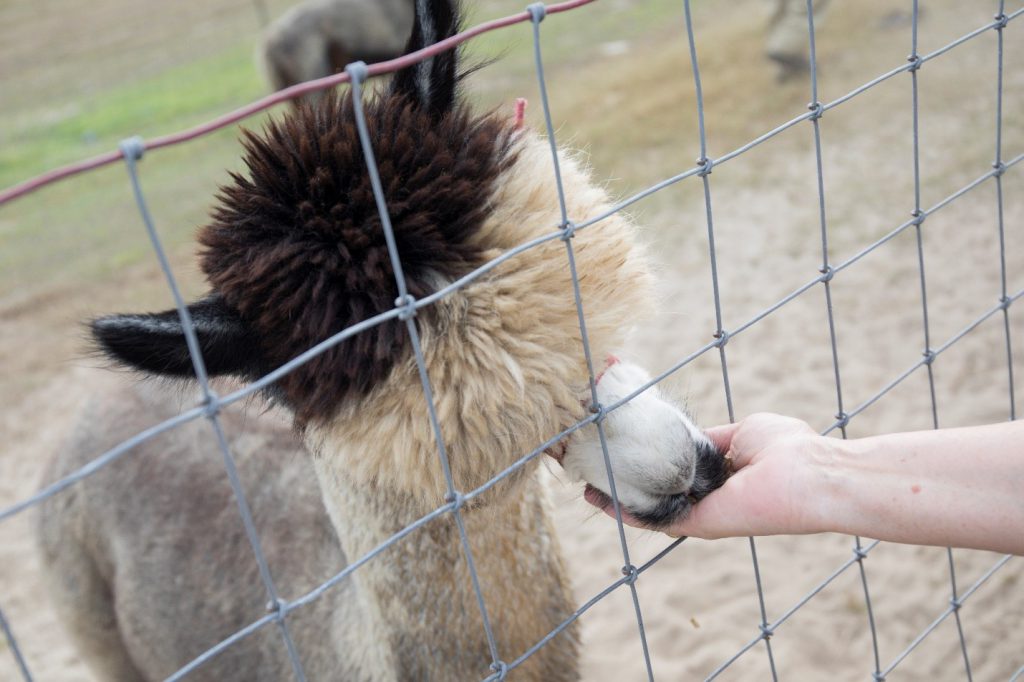 Farm raised alpacas. Photo taken 11-9-17. UF/IFAS Photo by Tyler Jones
KEYS TO DEVELOPING A PLAN
Clarify your goals and identify the advantages you hope to gain from launching an agritourism venture.
Familiarize yourself with nearby tourism activities and consider cooperation with local attractions rather than rivalry.
Create a detailed business plan that outlines your mission, financial requirements, available resources, and strategies.
Determine your ideal audience to attract visitors effectively.
Be aware of legal considerations and acquire liability insurance to protect your operation.
Develop a visitor management strategy.
Establish acceptable levels of human impact on your property and implement measures to maintain those limits.
Continuously assess the costs and benefits of your agritourism venture.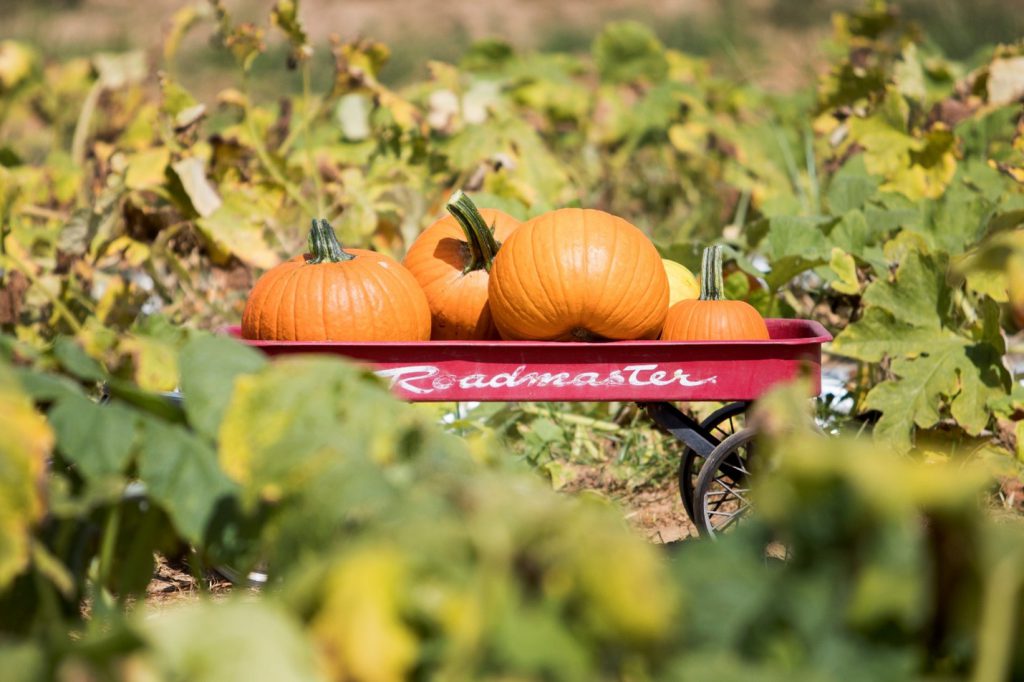 Pumpkins in a wagon in a pumpkin patch. Photo taken 10-06-18. UF/IFAS Photo by Camila Guillen
THE PANHANDLE'S AGRICULTURAL HERITAGE
The panhandle has been a hub for the cultivation of crops like cotton, tobacco, and peanuts. Throughout the centuries, the Panhandle's farming traditions have evolved, adapting to the challenges posed by climate, soil conditions, and economic shifts. Today, the agricultural heritage of the Florida Panhandle continues to thrive, with modern farmers diversifying their crops and embracing sustainable practices to ensure the legacy of farming endures for generations to come. Agritourism often celebrates and preserves the rich agricultural traditions and practices of the Panhandle region. Agritourism offers a unique and enriching experience that allows individuals to connect with the roots of agriculture while enjoying the beauty of rural landscapes. For more information on starting an agritourism operation, visit the tourism section of the Small Farms & Alternative Enterprises website (https://smallfarm.ifas.ufl.edu/direct-marketing-value-added/agritourism/) or contact your local county extension office.
Latest posts by khadejahscott
(see all)