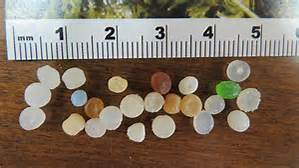 Going along with the International Coastal Clean Up, UF/IFAS Extension will be promoting September as Microplastics Awareness month.
If you have not heard, microplastics are small pieces of plastic < 5mm in diameter. Some are fragments from larger pieces of plastic that have been broken down by the elements, others are produced at that size to be used in products such as stuffed animals or melted in molds to produce larger products.  Some microplastics are small beads used in cosmetics, but the most common are fibers from our linens and clothing.  These fibers are removed during washing and travel through the drain and sewer systems until the reach the sea.  Either way – they end up in our coastal waterways where they have had some negative impacts on marine life.
Some impacts include:
Consumption by plankton give the sensation of being full – thus they stop eating.
A decrease in the reproductive success of oysters.
Negative impacts on hatching rates and activity rates of some species of larval fish, making them more prone to predation.
They have also been found to be more common in sea salt and have been found in the guts of some fish and bivalves sold at seafood markets on the west coast. We are not sure of the impact of human consumption of these products.
During the month of September, we will be posting short articles on our Facebook pages and on Panhandle Outdoors. Extension will also host a webinar on the topic September 16.  It will be broadcast from 12:15 to 1:00 PM EDT. To register for this webinar go to https://www.eventbrite.com/e/whats-the-big-deal-with-microplastics-webinar-tickets-27070847634.  Please like and share these with your friends so that we can make more people aware of this problem.  If you would like to have a public presentation on microplastics, contact your county Extension office.  Check in on these posts throughout the month.
http://facebook.com/NEFLSeaGrant
https://www.facebook.com/MicroplasticAwarenessProject