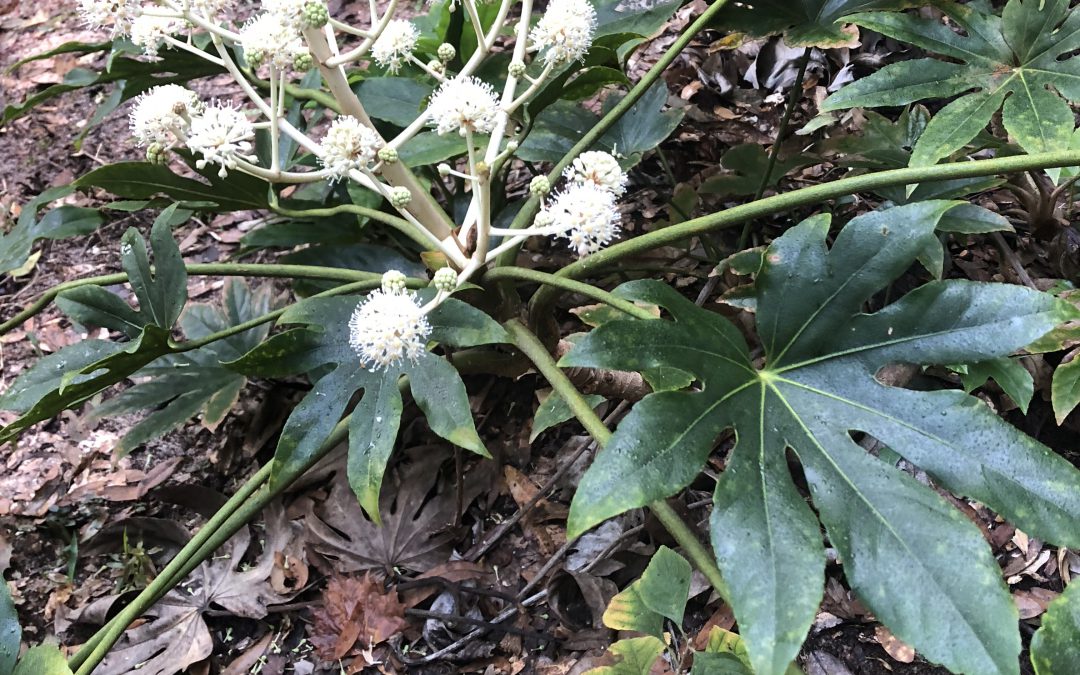 Fatsia japonica, common name Japanese aralia, provides tropical texture to your landscape.  That coarse texture is attributed to its large (nearly a foot wide) leaves that are deeply lobed (maple leaf shaped).  This shade-loving plant performs well in moist (not soggy) locations.  Upright stems originate near ground level usually near the base of older stems.  The stems grow to about eight feet tall before bending toward the ground under their own weight.
Even though the foliage of this species is enough to make you want it in your own garden, you will absolutely fall in love with its blooms.  Upright clusters of showy, creamy white flowers begin to appear in fall.  These little snowballs provide wonderful color to your garden.  The shiny, black fruits appear in winter and are prominent for several weeks.  The fruit are know to attract birds to the landscape.
Fatsia japonica thrives in the shade in slightly acidic, nutrient-rich, moist soil.  Older stems become leggy and can be cut back to encourage branching.  In the right place, Fatsia japonica is low-maintenance and not typically bothered by pests.  It is also known to perform well in coastal landscapes.  It fits well in entryways, in containers, or in mass plantings spaced three feet apart.