"Here we go 'round the mulberry bush" is still sung by small children today. There are lots of different versions of the lyrics. But each usually describes a daily or weekly task list. In fact, the rhyme began in 1840 as a cadence for female prisoners exercising at the Wakefield Prison in England. There happened to be a Black Mulberry (Morus nigra) growing in the yard. Black Mulberry is a slow-growing short tree, so as a young tree it appears bushy.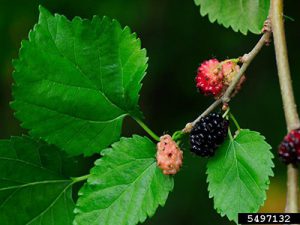 Red Mulberry (Morus rubra) is the native Florida species. It tends to grow more upright, but is still a small tree. Additionally, there are White (Morus alba) and Pakistan (Morus macroura) , as well as, many hybrid Mulberries that will grow in the Florida panhandle. White Mulberry is a fast growing tall tree that is so aggressive that it is classified as an invasive species. It can rapidly seed natural areas and become the dominant species. But, the Pakistan Mulberry is a small tree that develops a characteristic crooked, gnarled trunk and a large fruit. It can be pruned as a bush easily.
Growing the mulberry bush can add a unique winter feature to the landscape while producing food for the birds. Yet, the plant is short enough that the fruit can be harvested without having to shake the tree and gather up the fruit from the ground before the birds get all the berries.
Mulberries are self-pollinating and only require about 400 chill hours. A chill hour is each hour that the temperature remain between 32 and 45 degrees Fahrenheit. After 400 cumulative hours the plant is able to flower. The fruit matures in the late spring to early summer. The birds will be sure to notify everyone when it's time. Pakistan Mulberry can produce 4 inch long berries.
Mulberries will perform well if planted this winter. Plan on pruning them back each year if the bush effect is desired. It can take a year or two to get fully rooted. Don't be surprised to see some fruit drop off prematurely as the tree/bush gets established. Also, pay attention to where the mulberry is installed. Windy spots will knock off fruit. What birds eat, they deposit. Mulberries will stain the surfaces they land on. If the fruit is walked through, the staining can be moved to indoor surfaces.
When picking fruit don't forget the gloves unless dark stained fingers is the new look you're trying to create.
For more information on mulberries: http://gardeningsolutions.ifas.ufl.edu/plants/trees-and-shrubs/trees/mulberry.html
Latest posts by Sheila Dunning
(see all)