Matthew J. Orwat Is the Horticulture Extension Agent for Washington County, Florida.  His mission is to provide educational programming to meet the diverse needs of and provide solutions for homeowners and small farmers with ornamental, turf, fruit and vegetable gardening objectives.
He holds a Bachelor of Science in Biology, with an emphasis in Botany, from University of Texas Arlington and a Masters in Horticulture from Texas A&M University.
Matthew started gardening at an early age when growing up in Fort Worth, Texas. He grew lots of fruit trees and vegetables with his father, and helped his grandfather in his grape orchard and pecan grove. His passion for roses developed out of a passion for native trees, of which he learned to identify all types in his area when he was 12. When he was 13, his mom brought home one rose bush and the rest is history. By high school, he was growing 83 rose bushes and had already competed in local rose shows. Besides roses, Matthew enjoyed studying native plant ecology, prairie preservation and greenhouse production of tropical plants. In college he managed the teaching greenhouses for the University of Texas at Arlington Biology Department. He found this work rewarding, inspiring him onto furthering his career in horticulture.
He has been an avid rose grower since 14 years old and worked with the Texas A&M Rose Breeding and Genetics program in graduate school evaluating genetic traits for disease resistance. He also began working with Texas Agrilife Extension at this time, teaching about sustainable vegetable and rose gardening for both college students and master gardeners. He started his career with UF / IFAS in 2011 and is the Horticulture Extension Agent for Washington County Florida, in Chipley. He believes that roses can be grown in the coastal South, with minimal spraying, if careful cultivar selection is made. A good starting point for this is reviewing historic records and texts, particularly the chapter on roses in Hume's "Gardening in the Lower South". Also the findings of the Texas Earthkind Rose Selection Program provide good insight for rose gardeners in Northwest Florida.
He enjoys working with his small, but active, group of Master Gardener Volunteers on various youth projects and educational classes.
He has a passion for fruit and nut production and endeavors to assist growers throughout the Northwest District with production of crops such as blueberries, citrus, peaches, muscadines and other fruit crops. He also is involved with the UF / IFAS Honeybee Extension Lab's statewide Beekeeping program. He believes that there are lots of untapped niche markets for small and medium sized farms in Northwest Florida and aims to help enterprising agricultural entrepreneurs find those niches.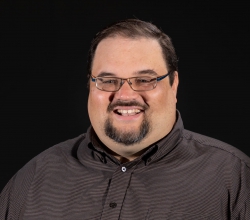 Latest posts by Matthew Orwat
(see all)